Coin Hunter - check change online using the coin checker app, build your coin hunt collection.
Play, swap and shop to enjoy the great british coin hunt with Coin Hunter. Play the Coin Hunter App, find coins for your collection to order at face value. Swap with other coin hunters on the Coin Hunt Facebook Group. Shop at the Coin Hunter Shop or browse products from The Royal Mint.
The Coin Hunter App is a free online coin hunt.
The virtual coins you check are all real and you can own any coin you see at face value.
Click any of the app links or one of the Login buttons to play now, or find out more about how the coin hunt works and take a look at information about online coin hunt events, where app players can enter coin hunting competitions with prizes.
New: Royal Mint Marketplace shows products that are out of production and no longer available new or pre-owned from The Royal Mint. Royal Mint Coins and Coin Sets from 2013
Coin Valuation Website check a coin value or request a coin valuation for your complete collection.
Featured: eBay users, if you prefer to use the full site when on a mobile device take a look at our new article How to use UK eBay full site not mobile on iPhone, iPad, android phone and tablets.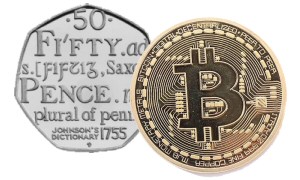 The Great British bitcoin Hunt, have you found a virtual coin in your change?
Coin Hunter is dedicated to bringing you all the information you need on coins in circulation, but when is a coin not a coin?
When it is a bitcoin, but what is a bitcoin and can I add one to my collection? - read the new Bit Hunter article to find out more.
Coin Hunter is supporting CLIC Sargent: When cancer strikes young lives, CLIC Sargent limits the damage this causes beyond their health. Please donate to help children and young people with cancer and their families.
There are many coin albums available from suppliers such as The Royal Mint and Change Checker (The Westminster Collection). Rather than create another one covered in branding, Coin Hunter has developed a brand new product that you can use to easily create your own album in your own style. Use Coin Hunter Coin Foam to store, protect and even display your coins.
Bringing the coins and the history to life
Coin Hunter was created to help educate and inspire coin collectors. We are proud to launch a new library of pages based on the people and events commemorated through The Royal Mint coin designs. These pages have been created by the Coin Hunter Facebook Group. A very big thank you to all members who have contributed. Visit the virtual coin album and click a coin to learn more.
We have added a new Coin Dealers Directory page to the Coin Hunter website to help you select a local coin valuation expert if you are looking to get a value for your coin collection or to actually sell your collection.
In the UK there are a number of online retailers that sell coins and coin related products. To help you make an informed choice, we have added some information about coin sellers on these pages.
Coin Hunter has been brought to you
thanks to the services provided by: