Coin Hunter is a free web based app that allows you to check change online. The change is a handful of virtual coins, but every coin you see is drawn from a pot of real coins.
This means that you can add any coin you see to your real collection, just by clicking the coin and using your free coin locks.
At the end of the coin hunt, you have the option to order any locked coins at face value. The coins are then posted to your address first class.
About Hunt#3
The app will randomly draw handfuls of change from 9500 coins with a total value of £10,000 received from Barclays, Natwest and Lloyds Bank. 3500 £2 coins and 6000 50 pence pieces.
Note: £1 coins requested from banks will now be the new design, so on top of the 9500 coins we will include £1 coin designs in the correct ratios based on circulation figures from The Royal Mint where existing stocks allow. Like every coin in the hunt, all £1 coins seen can be locked and the real coin ordered at face value.
Score Packs (currently active in Daily hunt), will probably be removed for Hunt#3.
Locking a coin just for you
Coin locks are how users get hold of the real coins at face value on a first to find basis. You can use a real coin lock to place a reserve on any coin you see.
Each user will be limited to locking a maximum of one of each coin design. This is to make to hunt as rewarding as possible for all players and give people the best chance of building or completing their collection.
Locking a coin removes it from the hunt. At the end of the hunt you have the option to pay face value to receive any coin or coins that you have locked.
Every user receives five free coin locks to use during the hunt. Pro Version users from the previous coin hunt may have coin locks left over, these will also be available in addition to the 5 free locks. There will be no option to purchase additional locks.
Hunt#3 is Free for everyone
All users will receive 35 handfuls of change each day, those who finish in the top 15 positions at the end of the hunt will receive prize points which can be exchanged for prizes as shown below. Winning players may choose a maximum of 1 of each prize.
Prizes for hunt #3 (Products and images: The Royal Mint)
2017 Peter Rabbit Silver Proof 50 Pence (50000 Prize Points)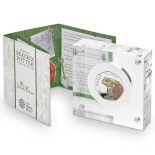 2017 Mr Jeremy Fisher Silver Proof 50 Pence (50000 Prize Points)
Definitive Coin Set (22500 Prize Points)
Fire of London BU £2 (15000 Prize Points)
Peter Rabbit 2017 UK 50p BU Coin (15000 Prize Points)
Mr Jeremy Fisher 2017 UK 50p BU Coin (15000 Prize Points)
Jane Austen 2017 UK £2 Brilliant Uncirculated Coin (15000 Prize Points)
The top 15 finishers will receive prize points which can be instantly converted into prizes. Total RRP of scoreboard position prizes available for hunt#3 is £420
| Position | Prize Points Awarded | Prize selection is your choice, one suggestion is shown below: (or add to your existing points to select another prize) |
| --- | --- | --- |
| 1 | 100,000 | |
| 2 | 50,000 | |
| 3 | 45,000 | |
| 4 | 40,000 | |
| 5 | 35,000 | |
| 6 | 30,000 | |
| 7 | 25,000 | |
| 8 | 22,500 | |
| 9 | 20,000 | |
| 10 | 17,500 | |
| 11 | 15,000 | |
| 12 | 15,000 | |
| 13 | 15,000 | |
| 14 | 15,000 | |
| 15 | 15,000 | |
Additional Information
League points are allocated based on the rarity of every coin received where The Royal Mint have published circulation figures. In the event of a tie, the winner / places will be drawn from the equal top scorers.
Every user has the opportunity to receive more packs of change and more real coin locks via the following methods:
Selecting the Get More Change button and completing a task such as visiting a website.
Earning streak bonuses by playing for a number of consecutive days.
Multiple Accounts
Any user can open multiple accounts as it is not possible to effectively stop this.
In the interest of trying to give everyone the chance to find the coins they need, we have added the following limitations.
Only 1 prize per user where multiple accounts are created.
Only 1 prize and 1 order of coins can be processed per PayPal account and postal address without special agreement obtained before the hunt begins.
The Coin Pot
The pot contains 11015 coins with a total value of £11,515. Coins from circulation: 3500 £2 coins, 1500 £1 coins and 6000 50 pence pieces. Brilliant Uncirculated Coins: 5 £2 coins and 10 50 pence pieces.
The addition of 15 Brilliant Uncirculated coins worth £150 is new for hunt#3. Look out for the following coins in your handful of change.



Lock these coins and you can receive the official Royal Mint BU coin in it's presentation folder for face value. BU coins in your change!, another first for Coin Hunter.
We want every user to have every possible chance. This is why a seeded coin distribution process will be used again for hunt#3.
In simple terms it keeps some of the rarest and most desirable coins out of the main pot at the start and puts them all back in at random times throughout the hunt.
Without this in place, the first few people in on the first few days could lock many of the coins everyone would like to find. This ensures a fairer distribution of coins.
All coins are from circulation, so coin condition is outside of our control. Wear and tear to coins can include marks, colour change and rubbing down which is normally more pronounced in older coins. That said we see a large number of coins, so where possible will select the ones in the best condition for you. Coins that we do not consider to be in good condition for the year will not be part of the hunt.
We can make no guarantee about availability of specific coin designs, especially rarer and sought after coins. Like everyday change we get what we are given, just on a larger scale.
We can guarantee that the advertised amounts of coinage have been received and checked with every coin found included in the pot.
Real coins delivered
The day after hunt#3 ends, the app will include an additional "Claim Coins" button. This allows you to view all your locked coins and select the ones you would like for your real collection and pay via PayPal.
The real coin order process will be active for one week after the end of the hunt. Any coins not claimed during this time will be returned to the pot for other users to find.
We are very keen to provide a face value ordering service, but with PayPal charges of 3.4% and £0.20 on every transaction we made a loss on every coin order made in hunt#1.
Moving forward all coins can still be ordered at face value, but with the PayPal charges of 3.4% and £0.20 added to allow us to break even on coin orders.
Example Coin Order Cost for hunt#2
2 x £2 coins and 2 x 50p coins with a face value of £5 would cost:
£5 for the coins
£5 x 3.4% = £0.17
+ £0.20
= £0.37 on top to cover PayPal fees

Total Payable before postage would be: £5.37

Postage:
Coins with a face value of £5 or less can be posted first class, all other orders will be sent first class signed for.
All post is sent via The Royal Mail to any address you provide in secure protective packaging.
Costs:
First Class: £1.59
First Class Signed For: £2.99 (up to 10 coins)
First Class Signed For: £4.59 (more than 10 coins)

Every account requires a unique and valid email address in order to take part in hunt#3.
One user account per household will be allowed. If you have a genuine need for 2 accounts, when you see the page that blocks access to the second account - complete the form to request a special exception.
Please be fair, only request this if their are 2 people in your house wishing to take part. Use of the app is now fully monitored - so it is easy to see single users with multiple accounts.