find the coin you're looking for
2016 Great Fire of London £2 Coin
This page contains information about the coin struck to mark the 350th Anniversary of the Great Fire of London. You can use the coin quick links below to find key information fast.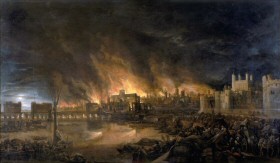 The Great Fire of London by an unknown artist
On 2nd September 1666, a fire started at a bakery on Pudding Lane. Due to the closely-built, wooden houses, it spread quickly and was soon uncontrollable. It became necessary to demolish buildings to contain the fire and help prevent it from spreading further but 13,200 houses were amongst the buildings destroyed and much of London had to be rebuilt.
This coin marking the 350th anniversary of the event shows the burning city from the perspective of someone in a boat on the Thames, trying to escape as many did during the blaze. Designed by Aaron West, it depicts flames rising high above the city, capturing the drama of the situation, and the anniversary dates and 'The Great Fire of London' around the edge. The coin carries the 5th portrait obverse design by Jody Clark, and the edge inscription 'THE WHOLE CITY IN DREADFUL FLAMES'.
Great Fire of London coin specification and useful information
Alloy
Inner: Cupro-nickel
Outer: Nickel-brass
Weight

12.00 g

Diameter

28.4 mm

Reverse Designer

Aaron West

Obverse Designer

Jody Clark

Edge Inscription

THE WHOLE CITY IN DREADFUL FLAMES

Year

2016

How many Great Fire of London £2 coins were minted?

5,135,000
Minting errors: Is there a Great Fire of London £2 coin mint error?
Sellers of coins from circulation would like to sell coins for as much over face value as possible, so often refer to rare mint error in the description on marketplaces such as eBay. If you are looking to buy this coin, read this first to ensure you do not pay far more than the coin is worth as a collector item.
No mint errors for this coin have been confirmed by The Royal Mint.
Error associated with this coin
Coin Image
The inscription on the edge of the coin THE WHOLE CITY IN DREADFUL FLAMES is upside down when the coin is Obverse (heads) side up.

This is common on all two pound coins and is not a minting error as the inscription is not struck a certain way up. Any two pound coin can have the writing on the edge any way up.

Click image to view more detail
Page Author: BH | Lasted Updated: 24/04/2018