find the coin you're looking for
2018 Mary Shelley's Frankenstein £2 Coin
You can use the coin quick links below to find key information fast.
Buy, Sell or Swap on the Coin Hunter Facebook Group - join the group and post an image of the actual 2018 Mary Shelley's Frankenstein £2 Coin you would like to swap or sell, or post to ask for this coin and give details of the price you are willing to pay or coins you are willing to swap.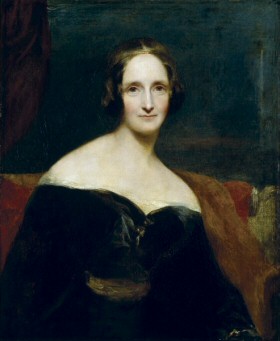 Mary Shelley
Mary Shelley's Frankenstein
On a stormy night in 1816, a group of friends gathered at a villa on Lake Geneva to tell each other ghost stories. The company, including the poets Lord Byron and Percy Shelley, had been discussing whether or not human life was simply biological or contained 'the divine spark' of God. That night Mary Godwin (later Mary Shelley) experienced a fevered dream about the birth of a terrible creature that was to become one of the most famous horror stories ever written.
When Frankenstein, or The Modern Prometheus was first published on New Year's Day, 1818, few people could have predicted that the terrifying tale of a meddling scientist would become a lasting touchstone of popular culture.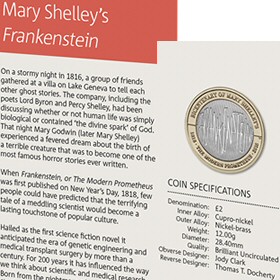 Hailed as the first science fiction novel it anticipated the era of genetic engineering and medical transplant surgery by more than a century. For 200 years it has influenced the way we think about scientific and medical research. Born from the nightmare of an 18-year-old girl, Shelley's monster has become and enduring legend of modern literature.
Join the Coin Hunter community to help complete your coin collection: Join Coin Hunter free and you could find this coin using our online coin hunt app. Any coins you find and lock, including the 2018 Mary Shelley's Frankenstein £2 coin can be yours.
Find out which other £2 coins are rare or valuable, visit the £2 Coin Value index page to learn more about UK coins in circulation and new releases.
Alloy (Inner)
Cupro-nickel
Alloy (Outer)
Nickel-brass
Reverse Designer
Thomas Docherty
Obverse Designer
Jody Clark
Minting errors: Is there a Mary Shelley's Frankenstein £2 coin mint error?
Sellers of coins from circulation would like to sell coins for as much over face value as possible, so often refer to "rare mint error" in the description on marketplaces such as eBay. If you are looking to buy this coin, read this first to ensure you do not pay far more than the coin is worth as a collector item.
No mint errors for this coin have been confirmed by The Royal Mint.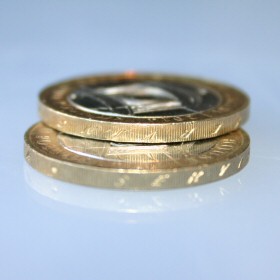 Edge inscription upside down
The inscription on the edge of the coin A SPARK OF BEING is upside down when the coin is Obverse (heads) side up.

This is common on all two pound coins and is not a minting error as the inscription is not struck a certain way up. Any two pound coin can have the writing on the edge any way up.
UK Decimal Coins
|
Coins for Sale
|
Coin Valuations
|
Coin Dealers
|
Great British Coin Hunt

© Coin Hunter Limited | Company number 10925477 England
Contact Us
|
Privacy Policy
Page Updated: 26 June 2019