2019 Samuel Pepys Diary £2 Coin
The 2019 Annual Coin Set contains 3 commemorative £2 coins including the new Samuel Pepys 2 pound depicting hand writing on the last page of Samuel Pepys' diary with the inscription SAMUEL PEPYS DIARIST 1669 – 2019.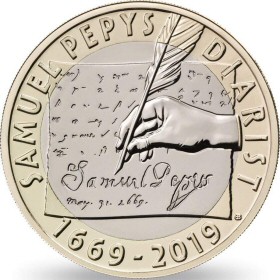 2019 Samuel Pepys £2
The Samuel Pepys £2 Coin is currently only available as part of The Royal Mint 2019 Annual Coin Set. It will be released as a presentation folder later in the year, but Coin Hunter have a limited stock of individual Samuel Pepys 2019 UK £2 Brilliant Uncirculated Coins available.

Visit the Coin Hunt eBay shop for more information about coins in the UK 2019 Annual Coin Set. The 2019 Samuel Pepys 2 pound coin will be available shortly after release from our eBay shop.
Receive an email as soon as the Samuel Pepys coin is available from Coin Hunter.
Samuel Pepys: was born on the 23rd of February 1633 in London, England. He was an administrator of the English navy and a Member of Parliament, but he is best known for the diary he kept from 1660 until 1669.
Buy, Sell or Swap on the Coin Hunter Facebook Group - join the group and post an image of the coins you would like to swap or sell, or post to ask for the Samuel Pepys coin and give details of the price you are willing to pay or coins you are willing to swap.
Alloy (Inner)
Cupro-nickel
Alloy (Outer)
Nickel-brass
Obverse Designer
Jody Clark
Minting errors: Is there a Samuel Pepys £2 coin mint error?
Sellers of coins from circulation would like to sell coins for as much over face value as possible, so often refer to "rare mint error" in the description on marketplaces such as eBay. If you are looking to buy this coin, read this first to ensure you do not pay far more than the coin is worth as a collector item.
No mint errors for this coin have been confirmed by The Royal Mint.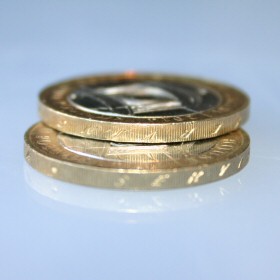 Edge inscription upside down
The inscription on the edge of the coin THE GOOD GOD PREPARE ME is upside down when the coin is Obverse (heads) side up.

This is common on all two pound coins and is not a minting error as the inscription is not struck a certain way up. Any two pound coin can have the writing on the edge any way up.