Wedgwood £2 Pound Coin (2019)
The 2019 Annual Coin Set contains 3 commemorative £2 coins including the new Wedgwood 260th Anniversary 2 pound depicting a vase with the inscription WEDGWOOD 1759 – 2019.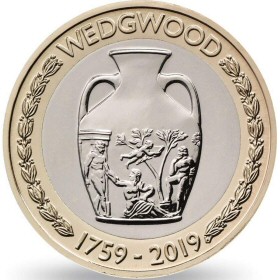 2019 Wedgwood £2
The Wedgwood £2 Coin is currently only available as part of The Royal Mint 2019 Annual Coin Set. It will be released as a presentation folder later in the year, but Coin Hunter have a limited stock of individual Wedgwood 2019 UK £2 Brilliant Uncirculated Coins available.

Visit the Coin Hunt eBay shop for more information about coins in the UK 2019 Annual Coin Set. The 2019 Wedgwood 2 pound coin will be available shortly after release from our eBay shop.
Receive an email as soon as the Wedgwood coin is available from Coin Hunter.
Wedgwood: is a company famous for fine china and porcelain, founded by Josiah Wedgwood in 1759. Wedgwood is still active today after 260 years, employing over 3000 people at it's headquarters in Stoke-on-Trent, England and thoughout the UK.
Buy, Sell or Swap on the Coin Hunter Facebook Group - join the group and post an image of the coins you would like to swap or sell, or post to ask for the Wedgwood coin and give details of the price you are willing to pay or coins you are willing to swap.
Alloy (Inner)
Cupro-nickel
Alloy (Outer)
Nickel-brass
Obverse Designer
Jody Clark
Minting errors: Is there a Wedgwood £2 coin mint error?
Sellers of coins from circulation would like to sell coins for as much over face value as possible, so often refer to "rare mint error" in the description on marketplaces such as eBay. If you are looking to buy this coin, read this first to ensure you do not pay far more than the coin is worth as a collector item.
No mint errors for this coin have been confirmed by The Royal Mint.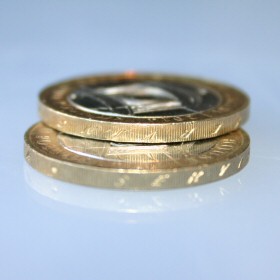 Edge inscription upside down
The inscription on the edge of the coin EVERYTHING GIVES WAY TO EXPERIMENT is upside down when the coin is Obverse (heads) side up.

This is common on all two pound coins and is not a minting error as the inscription is not struck a certain way up. Any two pound coin can have the writing on the edge any way up.