find the coin you're looking for
DISCLOSURE: We may earn a commission when you follow some of the links shown on this page and make a purchase.
Mr. Strong and Little Miss Giggles £5 Coin: Mr. Men and Little Miss 50th Anniversary
In 1971 Roger Hargreaves was asked by his son Adam "What does a tickle look like?" - which led to the creation of the first Mr. Men character. Mr Tickle would be joined by Mr. Greedy, Mr. Happy, Mr. Nosey, Mr. Sneeze and Mr. Bump – who featured in the first Mr Men books.
50 years later, Roger's son Adam Hargreaves is creating new Mr. Men and Little Miss characters for the next generation. 2021 will see The Royal Mint celebrate this milestone but releasing three new £5 coins featuring Mr. Happy, Little Miss Sunshine and Mr. Strong with Little Miss Giggles.


£16 including delivery from
The Royal Mint
£13 plus £3 delivery charge


£13.55 including delivery from
Crawley Coins
£12.25 plus £1.30 delivery charge
Coupon Code: COINHUNTER5
Save 5% on £20 minimum spend
The new coins will be available to buy as Brilliant Uncirculated coins in cards and in the official Royal Mint packaging. The silver proof coins will feature colour print to make the characters stand out, the standard non colour BU coin will cost £13 each for the Royal Mint pack.
£5 coin release: Mr. Men coin featuring Mr Happy.
2021 Three Coin Set - Register Interest
If you would like to buy the 3 coins in Royal Mint packs along with a free Mr Men book of your choice and a free exclusive display hanger as shown in the image above, please add your name and email address to the form below.
The 3 coin packs, Mr. Men book and display hanger will be dispatched after the release of the third coin to save you money on postage.
Sorry, this offer is now closed.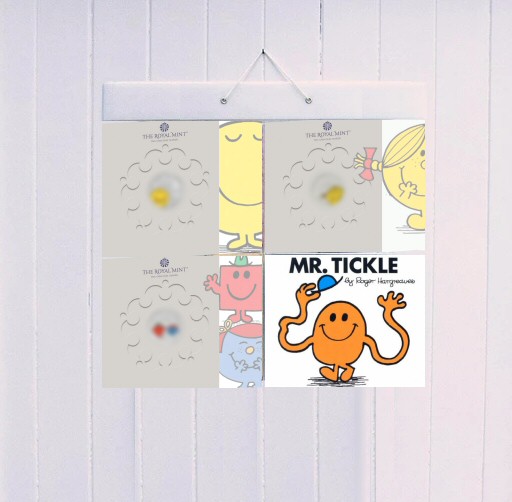 2021 Mr Men Little Miss Three Coin Set [Royal Mint packs]
No Longer Available
Condition: New | Exclusive to Coin Hunter

© Coin Hunter Limited | Company number 10925477 England
Contact Us
|
Privacy Policy