find the coin you're looking for
Peter Rabbit 2017 Brilliant Uncirculated 50p Coin
The 2017 set of 4 coins based on Beatrix Potter characters are being released as collector edition brilliant uncirculated versions before the standard coin designs enter circulation. All coins are or will also be available as silver proof colour printed versions.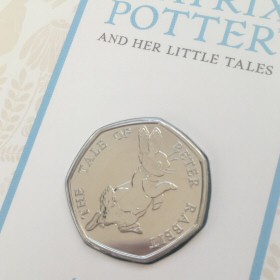 Peter Rabbit Royal Mint Presentation Folder
The release order of the coins as advised by The Royal Mint is: Peter Rabbit, Mr. Jeremy Fisher, Tom Kitten and finally Benjamin Bunny. When these coins appear in general circulation, it is very likely that people will keep hold of the coins as they find them in their change, as previous Beatrix Potter 50p coins haved proved very popular with the British public.
If the 2016 set of five 50 pence coins is a guide, the four 2017 coin designs will have different numbers minted with one perhaps being less common that the others (such as the 2016 Jemima Puddle-duck design which had less then half the number of other coins in the set with 2,100,000 minted).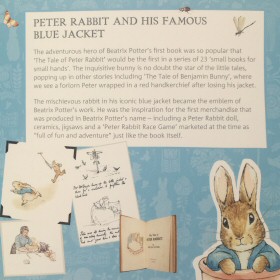 Peter Rabbit and his famous blue jacket
The adventurous hero of Beatrix Potter's first book was so popular that "The Tale of Peter Rabbit" would be the first in a series of 23 "small books for small hands".
The inquisitive bunny is no doubt the star of her little tales. Popping up if other stories including "The Tale of Benjamin Bunny", where we see a forlorn Peter wrapped in a red handkerchief after losing his jacket.
The mischievous rabbit in his iconic blue jacket became the emblem of Beatrix Potter's work. He was the inspiration for the first merchandise that was produced in Beatrix Potter's name – including a Peter Rabbit doll, ceramics, jigsaws and a "Peter Rabbit Race Game" marketed at the time as "full of fun and adventure" just like the book itself.
50p Coin Specification
Reverse Designer
Emma Noble
Obverse Designer
Jody Clark
UK Decimal Coins
|
Coins for Sale
|
Coin Valuations
|
Coin Dealers
|
Great British Coin Hunt

© Coin Hunter Limited | Company number 10925477 England
Contact Us
|
Privacy Policy
Page Updated: 30 January 2019