find the coin you're looking for
Edward VII Half Sovereign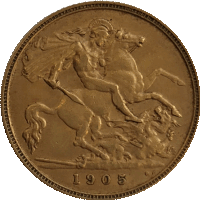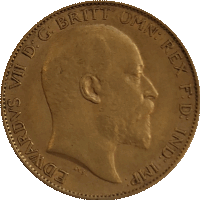 The Half Sovereign is a British coin produced since 1817, with Edward VII coins produced between 1902 and 1910. The equivalent decimal currency value of the Half Sovereign would be 50 pence.
Mintage figures listed here for Edward VII Half Sovereign may be approximate and may not include all circulation and proof coins minted in each year. 1902: 4,244,457 1903: 2,522,057 1904: 1,717,440 1905: 3,023,993 1906: 4,245,437 1907: 4,233,421 1908: 3,996,992 1909: 4,010,715 1910: 5,023,881
The coin is made of 22 carat gold, 19.3mm in diameter and weighs 3.99 grams. A 22 carat gold value of £28.19 per gram would mean this coin would have a scrap metal value of about £112.48.
The reverse coin design shows St George and the dragon created by Benedetto Pistrucci, the obverse shows a portrait of Edward VII by George William de Saulles and the lettering EDWARDVS VII D:G:BRITT:OMN:REX F:D:IND:IMP:
1908 EDWARD VII GOLD HALF SOVEREIGN IN NEAR MINT CONDITION
£185.00

Buy from eBay.
End Date: Friday Aug-23-2019 10:12:50 BST
UK Decimal Coins
|
Coins for Sale
|
Coin Valuations
|
Coin Dealers
|
Great British Coin Hunt

© Coin Hunter Limited | Company number 10925477 England
Contact Us
|
Privacy Policy