find the coin you're looking for
Change Checker live coin swap in Bristol
On Saturday 20th October the Change Checker team came to Cabot Circus in Bristol to offer people a lucky dip swap. Just hand over a normal 10p coin and pick a coin from The Royal Mints new A to Z of Britain 10p coin range.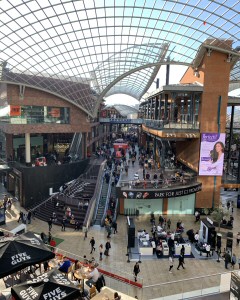 Cabot Circus Bristol
The lucky dip was from a Perspex box which did let you see the coins and allow people to pick a specific letter. I arrived at 3pm just 2 hours before the end, the box was close to empty but there was still a good selection of letters available.
I was after a B for Bond or I for Ice Cream 10p – I asked if these were in the box and was told the B's had been popular and had all gone, but I could see a letter I and picked that one.
The crew were very friendly and chatted to people as they dipped into the box, a box that when full probably could hold about 5,000 10p coins.
As I live near Bristol and was working just the other side of town, I thought it would be worth the trip to see the crew and collect a coin. It was still a 40 minute round trip, but with other Change Checkers keen to attend but living hundreds of miles from Bristol, I did not feel too hard done by.
Although when I factor in the cost of an hours parking, which was £2.30 and the petrol - I'm sure I could have purchased a carded I for Ice Cream 10p (or 2 first strike A to Z coins) cheaper!
Change Checkers supply of A to Z 10p coins
I did ask the question, how do Change Checker get hold of so many A to Z 10p coins? – as many collectors are yet to see a single letter 10p since their release in March. The girl was not sure and guessed that they buy them, but in my opinion this is unlikely, as The Royal Mint do not sell circulation coins and I can't see Change Checker on eBay buying a few bags at a time!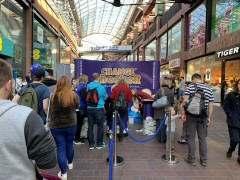 Change Checker stand at the Bristol shopping centre
Ironically, all the people feeling frustrated about not finding any of the new A to Z coins in their change, actually have to look to the large number of eBay sellers and to Change Checker.
Yes, the live swap is a good thing, in that it helps collectors start or build their coin collection, but a large number of A to Z 10p coins did not reach circulation for this event.
To ensure this article is accurate, I intend to request a comment from the company press office about how many coins were available and swapped during the event and ask where they source circulation coins for events such as this. The reply received will be added to the article.
About Change Checker
The Westminster Collection operate the Change Checker brand on behalf of parent company 288 Group Limited.
UK Decimal Coins
|
Coins for Sale
|
Coin Valuations
|
Coin Dealers
|
Great British Coin Hunt

© Coin Hunter Limited | Company number 10925477 England
Contact Us
|
Privacy Policy
Page Updated: 23 October 2018