find the coin you're looking for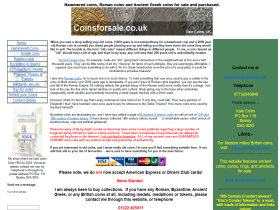 coinsforsale.co.uk (Vale Coins)
Ancient Greek, Roman and medieval hammered British coins
coinsforsale.co.uk (Vale Coins) based in London run an online coin shop, selling direct from the website www.coinsforsale.co.uk. Established in 1953 coinsforsale.co.uk (Vale Coins) has been trading for 65 years.
coinsforsale.co.uk (Vale Coins)
Please mention Coin Hunter when getting in contact
Location

London

Shop Address

N/A

Contact Address

PO Box 118 Bexley DA5 9DG

Phone

01322 405911

Contact Form / Email
coinsforsale.co.uk (Vale Coins)
valecoins [at] ntlworld.com
Coins for sale listed online

Yes

Website
coinsforsale.co.uk (Vale Coins)
www.coinsforsale.co.uk
Discount Codes

No

Buys Coins

Yes
If you live near London and wish to sell your coin collection, coinsforsale.co.uk (Vale Coins) are interested in buying coins and can be contacted via the website, by email or by phone.
Coin Hunter Listed Dealers:

Cabinet at Sidmouth Antique centre
0845 6807087 / 07517 251262

Postal Address: P.O Box 1219, Spalding, PE11 9FY
07950 287349

Postal Address: Kramer Mews, London SW5 9JG
07802 510980

Postal Address: PO Box 2, Monmouth, Gwent, NP5 3YE
07714 284939

Postal Address: 13 Randall Street, Maidstone, Kent, ME14 2TB
01622 236 526 / 07402 965818

Postal Address: 206 Honeysuckle Road, Southampton, SO16 3BU
02380 324258

Postal Address:
01531 670214
Boscombe Coin Co
Gold, silver and rare coins for sale
Postal Address: 20 North Road, Bournemouth, BH7 6ET
01202 466 205, 07910 418 146
BucksCoins
English hammered and milled coins, gold coins, World co...
St Mary's House, Duke Street, Norwich, Norfolk, NR3 1QA
01603 927020
UK Decimal Coins
|
Coins for Sale
|
Coin Valuations
|
Coin Dealers
|
Great British Coin Hunt

© Coin Hunter Limited | Company number 10925477 England
Contact Us
|
Privacy Policy