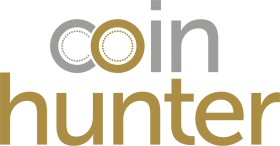 find the coin you're looking for
»

Dave Allen Collectables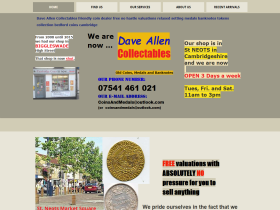 Dave Allen Collectables
Old coins, medals, banknotes and tokens
Dave Allen Collectables sells coins from a shop located at 13 Fishers Yard, St. Neots, Cambridgeshire, PE19 2AG and has an online presence, but does not currently sell coins from the website www.daveallencollectables.co.uk. Established in 1967 Dave Allen Collectables has been trading for 51 years.
Dave Allen Collectables
Please mention Coin Hunter when getting in contact
Contact Name

Dave

Location

Cambridgeshire

Shop Address

13 Fishers Yard, St. Neots, Cambridgeshire, PE19 2AG

Phone

07541 461 021

Contact Form / Email

coinsandmedals [at] outlook.com

Coins for sale listed online

No

Website
Dave Allen Collectables
www.daveallencollectables.co.uk
Discount Codes

No

Buys Coins

Yes
Dave Allen Collectables are interested in buying coins. Dave can be contacted by email or by phone.
Coin Hunter Listed Dealers:

Cabinet at Sidmouth Antique centre
0845 6807087 / 07517 251262

Postal Address: P.O Box 1219, Spalding, PE11 9FY
07950 287349

Postal Address: Kramer Mews, London SW5 9JG
07802 510980

Postal Address: PO Box 2, Monmouth, Gwent, NP5 3YE
07714 284939

Postal Address: 13 Randall Street, Maidstone, Kent, ME14 2TB
01622 236 526 / 07402 965818

Postal Address: 206 Honeysuckle Road, Southampton, SO16 3BU
02380 324258

Postal Address:
01531 670214
Simmons Gallery
Coins, medals and tokens
Postal Address: PO Box 104, Leytonstone, London, E11 1ND
020 8989 8097
Simon Monks
Medallions, tokens, tickets and passes, hammered and mi...
Postal Address: Suite 313, St Loyes House, 20 St Loyes Street, Bedford, Bedfordshire, MK40 1ZL
01234 270260
Sovereign Rarities Ltd
Coins from the ancient Greek, Roman and Byzantine perio...
32 St George Street, London, W1S 2EA
0203 019 1185

© Coin Hunter 2018