find the coin you're looking for
Sherlock Holmes 2019 UK 50p Brilliant Uncirculated Coin [Royal Mint pack]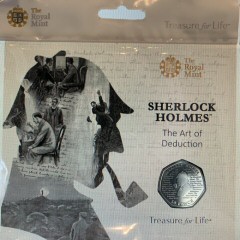 The Sherlock Holmes 2019 UK 50p Brilliant Uncirculated Coin [Royal Mint pack] image shown is representative of the product that you will receive.
Order the 2019 Sherlock Holmes 50p Coin in Brilliant Uncirculated quality displayed in The Royal Mint's offical presentation folder. Items will be dispatched in the week commencing 20th of May 2019.
£9.00
Looking for more? Visit the Coin Hunter Shop for a selection of Brilliant Uncirculated and Silver coins including sets and A to Z 10p's.
UK Decimal Coins
|
Coins for Sale
|
Coin Valuations
|
Coin Dealers
|
Great British Coin Hunt

© Coin Hunter Limited | Company number 10925477 England
Contact Us
|
Privacy Policy
Page Updated: 13 November 2018