eBay
eBay is an online marketplace where buyers and sellers exchange money for goods and goods for money. The transfer of money is usually handled by PayPal. eBay has become very popular with people buying and selling UK circulation coins, commemorative coins, coin sets and coin accessories.
Having received a number of questions from users relating to accessing the non mobile version of eBay on mobile devices, please see the link below if you would like to switch to the classic desktop PC view on apple iPhone or iPad or when using an android mobile or tablet.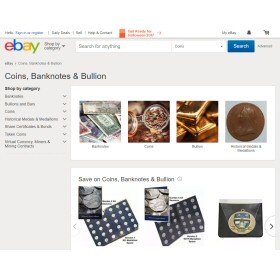 Delivery Information:
Delivery cost is set by the eBay seller for each listing. Always check delivery costs before bidding or making a buy in now purchase.
How to access the eBay full site on mobile:
The eBay mobile site restricts available functions, some users prefer to use the eBay desktop version from their mobile devices.
If you would like details of how to use the non mobile site, tap this link on your mobile phone or tablet. eBay full site not mobile
eBay Reviews
Check the individual eBay sellers rating and reviews
Other stores selling coins or coin related products:

© Coin Hunter 2017. CABell Limited whose registered office is at 38b High Street, Keynsham, Bristol, Avon, BS31 1DX, United Kingdom (registered in England and Wales No. 3597702.)