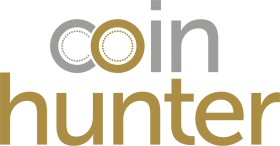 find the coin you're looking for
2015 Magna Carta £2 Coin
Page Author: BH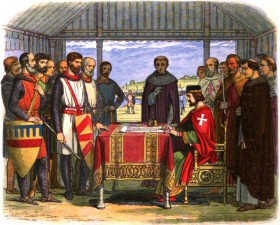 19th-century recreation of King John signing Magna Carta
On 15th June 1215, King John signed (with a royal seal) the Magna Carta. It was essentially an agreement with the feuding barons that the King had to abide by the law too, and couldn't abuse his power. Although 'The Great Charter' has been removed and reinstated many times throughout history, it is regarded as the basis for modern law, influencing similar legislation.
The reverse of this coin created to celebrate the 800th anniversary of the event was by designed John Bergdahl. It depicts King John signing the Magna Carta, with a nobleman either side, surrounded by the words 'Magna Carta' and the key dates on the outside. The image showing King John signing it is symbolic, as he would have used a royal seal instead of a quill. The edge inscription states 'FOUNDATION OF LIBERTY', emphasising the Magna Carta's significance.
This coin was minted with the 4th portrait obverse for sets only; and all the coins produced for circulation have the 5th portrait.
Join the Coin Hunt: This £2 coin can be found in your change, on average you would see one of this coin design in every 304 two pound coins received as change.
How much is the Magna Carta 2 pound coin worth?


Magna Carta £2 Coin value eBay. Good condition circulated examples of this coin are currenly selling on eBay for between £3.00 and £3.15.
Buy, Sell or Swap on the Coin Hunter Facebook Group - join the group and post an image of the actual 2015 Magna Carta £2 Coin you would like to swap or sell, or post to ask for this coin and give details of the price you are willing to pay or coins you are willing to swap.
Magna Carta coin specification and useful information
Alloy
Inner: Cupro-nickel
Outer: Nickel-brass
Weight
12.00 g
Diameter
28.4 mm
Reverse Designer
John Bergdahl
Obverse Designer
Jody Clark
Edge Inscription
FOUNDATION OF LIBERTY
Year
2015
How many Magna Carta £2 coins were minted?
1,495,000
Minting errors: Is there a Magna Carta £2 coin mint error?
Sellers of coins from circulation would like to sell coins for as much over face value as possible, so often refer to rare mint error in the description on marketplaces such as eBay. If you are looking to buy this coin, read this first to ensure you do not pay far more than the coin is worth as a collector item.
No mint errors for this coin have been confirmed by The Royal Mint.
Error associated with this coin
Coin Image
The inscription on the edge of the coin FOUNDATION OF LIBERTY is upside down when the coin is Obverse (heads) side up.

This is common on all two pound coins and is not a minting error as the inscription is not struck a certain way up. Any two pound coin can have the writing on the edge any way up.

Click image to view more detail