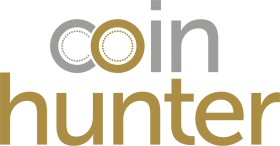 find the coin you're looking for
Coin Dealers
Featured Dealers: B & G Coins - Specialists in rare UK coins, foreign coins and medals | AJW Coins - Specialists in British milled coins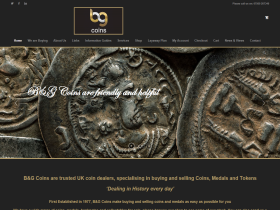 B & G Coins have kindly created some money saving discount codes that can be used by Coin Hunter visitors and registered collectors. The selection is taken from their quarterly "Steal Deal" offerings which include the following items: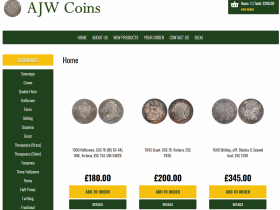 AJW Coins deal primarily in good quality British milled coins. Available items can be viewed on the website where you will find a wide selection of coins which are all displayed with high quality photos of obverse and reverse. Each coin is also clearly described.
Coin Hunter says: The website is clear and easy to navigate with a category selection list based on coin denomination. AJW Coins has received our coin dealer gold award.

Coin Dealers Directory - Listings for over 150 coin dealers. Find a dealer near you to value your coins in person or view coins available to buy online.
A select few dealers are awarded the Coin Hunter Gold Award based on product quality, value for money and customer service.
Coin Hunter brings sellers, dealers and collectors together to the benefit of all.
Join Coin Hunter as a coin collector, coin dealer or if you have a collection of coins to sell. Free membership of the Coin Hunter online coin community comes with a number of benefits. Find out more by reading the Why Coin Hunter page.

Buy Coins
- Numismatists / Coin Collectors, find the coin you're looking for. Search or browse over 20,000 coins offered for sale direct from selected coin dealers.
The Coin Hunter Database contains a wide variety of coins for sale. Ancient coins from over a thousand years ago, right up to the latest releases from The Royal Mint and everything in between.
If you are looking to buy new coins or coin sets currently in production, you can buy direct from The Royal Mint or from a small number of coin dealers who stock the latest releases.
If you are looking for modern decimal coins in presentation packs or sets (which are out of production and no longer available from The Royal Mint), some coin dealers listed in the dealers directory do specialise in decimal coinage.
eBay and other similar online marketplaces can offer good opportunites to find items missing from your collection, but do remember to research prices to make sure you do not pay too much.
If you are looking for old pre-decimal coins, The Royal Mint do have a range of historical coins available and most coin dealers should also have a good selection.
eBay is an option, but do research the coin itself and consider the price asked before making a bid or choosing to "Buy It Now". There are many fake coins offered for sale, a good feedback score is no guarantee. Research may help you avoid spending good money on a worthless coin or paying too much for a genuine coin.
Coin Hunter says: If you have any concerns about identifying real coins from items made to decieve, you should look to buy from a professional coin dealer with a solid reputation in the industry. Coin Hunter search results only include items sold by reputable dealers and eBay listings are only shown from selected coin dealer shops.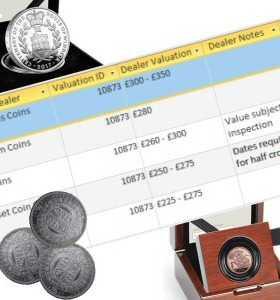 Selling Coins: Coin Valuations
Free online coin valuations from professional coin dealers. To get the best price for your coin collection, we request offers from all subscribed valuers in the dealers directory.
If you have a collection of items from The Royal Mint in original packaging, such as gold, silver, proof or brilliant uncirculated coins, or have coins produced before 1947, we can help you get the best price when selling to a coin dealer.
We offer a Coin Valuation Service to present you with offers from a selection of trusted coin dealers on a no commmitment basis.
The Great British Coin Hunt
Check your change for new coin designs and take part in The Great British Coin Hunt from The Royal Mint. Collect coins from circulation, such as the special commemorative designs: Beatrix Potter 50p's, London 2012 Olympic Sports 50p's and the A-Z 10p coins.

Coins in Circulation
: Find interesting coin designs for 10p, 50p and two pound coins in your change. Coin Hunt Brilliant Uncirculated (BU) coins and albums are available from The Royal Mint, view the
coin hunt product range
on sale now.

Find A to Z 10p Coins
- With 26 designs to find, why just check your change when there are alphabet 10p coins to be found in the latest version of the
Coin Hunter app
.
For help finding the coins you need, login to our virtual change checking app. It's free to play and you could find the coin missing from your collection. Find the coins you want in the app during the next online coin hunt and the real coins can be ordered from Coin Hunter at face value.
Error Coins
Get to know UK error coins, how to find them and how much they are worth.
Find Error Coins
- What to look for in your change and money boxes. 10 coins worth over £5000 in total.
1990 Bronze 20p
- Own one of the rarest error coins ever found, make a bid on this excellent condition wrong blank error that has been confirmed in writing as authentic by The Royal Mint Museum.
2011 Cardiff Pound Inverted Effigy
- A very rare example, make a bid on this very impressive die rotation error with written confirmation of the error from The Royal Mint Museum.
Error Coin Database
- Have you found a coin that does not look quite right? Add your find to the Coin Hunter Error Coin Database.