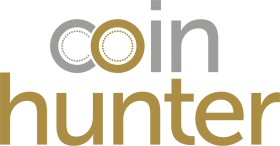 find the coin you're looking for
Coin Hunter £2 Coin Hunt Album and 50p Albums
New from Coin Hunter, the 50p Coin Hunt Album and the £2 Coin Hunt Album each hold up to 40 coins securely in high density foam.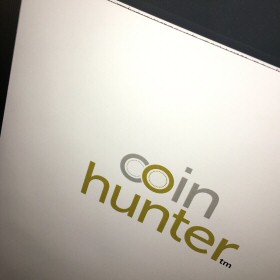 £2 Coin Hunt Album and 50p Albums
Safely store your Olympic Sports 50p collection in one album and keep every other circulation 50p coin design in another - with space for future releases from 2018 and beyond.
Store every £2 coin design released into circulation over the last 20 years (1997 to 2017) in a single album, 40 spaces for the 39 coins. If you want to keep your collection looking neat and be ready for 2018, why not buy a second £2 coin album.
The first release of Coin Hunter Albums will be limited to just 200 of the 50p Coin Albums and 200 of the £2 Coin Albums.
Every album will show an issue number between 1 and 200 and a special unique code that can be used to receive discounts on 2018 Brilliant Uncirculated coins and sets.
Coming Soon: Send us an email to register your interest and you will receive an email as soon as this product is available.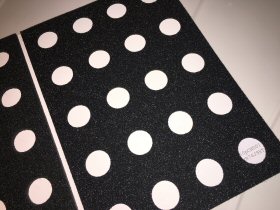 The Coin Foam inside the album
The A4 albums are different from any other product on the market and available exclusively from Coin Hunter.
The coin foam in the 50p album has round holes the perfect size for keeping your 50p coins fixed in place, just press any 50p into any of the 40 holes. The £2 album has holes cut to perfectly fit £2 coins.
There are no spaces set aside for any particular coin design, which gives you the freedom to organise your collection in any way you like.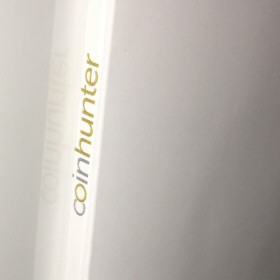 Neat and compact upright coin storage
The solid card and foam structure hold the weight of the coins securely, so albums can be stored upright.
The A4 albums are just 8mm thick, so will not take up much space at all. You could store multiple collections and duplicates, 10 albums would store 400 coins in just 8cm of shelf space. Perhaps add your own label the the outward facing edge of the album.
The Coin Hunter branding on a white background is deliberatley understated so albums look good stored side by side on a shelf.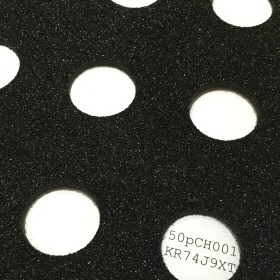 Limited first edition with discount codes
When purchasing one ore more albums, the code(s) are your key to discounted 2018 coin products from Coin Hunter.
As an incentive to keep checking you change and complete sets of 50p and £2 coins, album owners will be rewarded with a 5% discount for each completed coin hunt album.
Turn your album code into a 15% discount code by collecting all the coins in circulation right now.
Coin Hunt sets are: The 29 Olympic Sport 50p coins, all other 50p coins in circulation and all £2 coins in circulation.
Collect a full set in your Coin Hunter Album, email or upload an image showing your album, the coins and the code. On validation, your discount code will be activated to save 5, 10 or 15%.
The Royal Mint Olympic 50p album is no longer available and cannot be re-produced due to the expiry of the London 2012 product licence. The new Coin Hunter 50p album holds all 29 coins, plus it has space for the completor medallion (if you are lucky enough to have one) and 10 duplicates.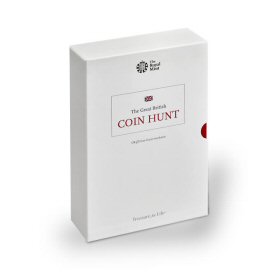 The Royal Mint's current £2 box album
The Royal Mint has produced a number of coin albums to store your collection of circulation 50p, £1 and £2 coins. Including The Great British Coin Hunt £1 Coin Collector Album, £2 Coin Collector Album and the Olympic 50p Album.
Albums were created to encourage people to build a collection of circulation coins by joining The Great British Coin Hunt. Coin hunters checked their change for special coin designs to try and collect one of each of the coin designs in circulation.
Albums produced before 2017 were printed with marked slots for each coin, which meant that the album needed blank spaces for new coin designs or would soon be out of date. With new designs being added each year, it would seem that marked slots may be a thing as the past, with The Great British Coin Hunt £2 Album (Extended Version) created as a box holding 10 blank coin cards each with space for 6 coins.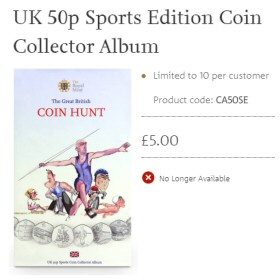 Olympic 50p Album
The older style albums including the Olympic 50p Album have sold out and will no longer be produced by The Royal Mint. With the old round £1 coins now out of circulation, people are looking for a home for their £2 coins and 50p coins.
50 pence coins have become very popular with collectors since the 29 new coin designs created to mark the London 2012 Olympics entered circulation. The Great British Coin Hunt 50p album and The Royal Mint Olympic 50p album command high prices on eBay as there is still a high demand for a product that has been discontinued.
With new prices of about £5 per 50p collection book, it is no surprise that albums (although limited to 10 per customer) are now snapped up by eBay sellers looking to make a quick profit when the stock at The Royal Mint runs out.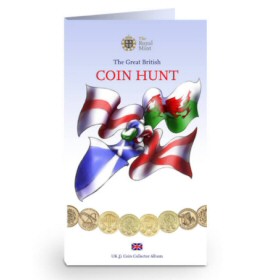 The Great British Coin Hunt £1 Coin Collector Album (First Edition)
The original albums were priced at or below the production costs and played a part in bringing the world of coin collecting to a wider audience.
The official Great British Coin Hunt albums and the London 2012 Olympic sports 50p album have long since sold out with many now appearing on eBay at much inflated prices. As with all Royal Mint products, production ends at a point in time which creates a thriving secondary marketplace.
These coin albums are not elegant or timeless but they do have The Royal Mint branding which is important to many collectors.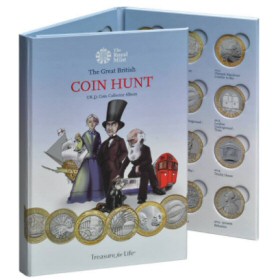 The Great British Coin Hunt £2 Coin Collector Album (Second Edition)
This £2 coin collection album issued as part of The Royal Mint's Great British Coin Hunt is also no longer available to buy new from The Royal Mint.
The same is true of the newer Collector's Edition versions for £2 and £1 coins and all albums created for individual commemorative 50p coins and the 2012 Olympic Sports Set.
With the current lack of available royal mint collectors albums it is no surprise that other coin collecting albums are being produced by companies such as Lighthouse, Cambridgeshire Coins and Crown Coins.