There are currently 2 active codes that can be applied at the checkout. When buying coins online - click the plus sign next to Add a promotional code, then enter a code shown below and click APPLY.
IMPORTANT NOTE: You may need to be logged in to your account for some of the codes to be applied to your order.
Royal Mint Free Delivery


Reveal code for: Free Delivery
10% off selected products


10% off selected products*
*The 10% discount applies only to selected products. View the items available cheaper with a discount code.
DISCLOSURE: We may earn a commission when you follow some of the links shown on this page and make a purchase.
The Royal Mint issue four types of codes to activate offers when buying from the online shop.
DSC--- 001 to 999 for percentage discounts
PST--- 001 to 999 for free delivery (see Note 1 below)
BND--- 001 to 999 for free coin gifts and other discounts
FREETEXT for other special offers such as seasonal sales and new customer offers
Free Delivery used to be automatically applied to orders over £45 - the threshold for no postal charge is now £5,000!
Customers shopping at royalmint.com have asked the following questions about promotion codes.
How do I find the best Royal Mint discount codes?
An internet search will show results from many voucher code websites which can show working codes and coupons that are not valid. Here at Coin Hunter we specialise in finding and displaying discount codes just for The Royal Mint - so the place to find the best working money off, free coin and free delivery codes is right here!
Does The Royal Mint have any working voucher codes right now?
Yes, three codes are available and working now. People also ask "how many Royal Mint discount codes can you use in an order?" - the answer is the codes are normally exclusive - so you have to select the best code for your order. Sometimes you can add multiple (stack the codes) to get a bigger discount or even save money and get a free coin gift.
Can I get a free delivery code from The Royal Mint?
Now that the free delivery on £45 minimum spend offer has been removed - the only way to get free postage on your order is to use a Royal Mint code that starts PST.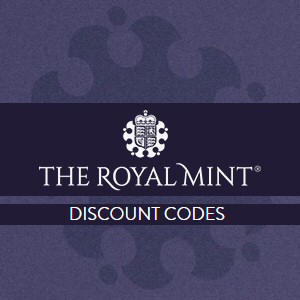 Expired Royal Mint Promotional Codes
Expired April 2022
Royal Mint Free Delivery on £45 spend
D2145
Expired 29 April 2021
Up to 25% off selected Royal Mint silver proof products
DSC350
Expired 29 April 2021
Free Coin: 2019 Peter Rabbit 50p pack (£50 spend)
BND245
Expired April 2021
33% off selected commemorative coins
DSC342
Expired 15 February 2021
Free delivery on commemorative coin orders over £20
LOVE20
Expired 10 February 2021
£5 off when you spend £50
BND242
Expired 10 February 2021
Free Coin - Lunar Year of the Ox 2021 £5 when you spend £60
BND248