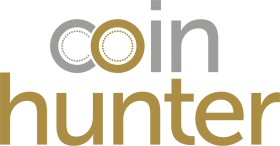 find the coin you're looking for
10 error coins worth over £5000 and how to find them.
Coin Hunter helps you find rare error coins and make money from the coins found in your change.
Use the UK Error Coin Guide on this page to check the coins in your money boxes and your change. There is also a handy quick reference printable version of the UK Error Coin Guide
The 8 coins shown below can be found in your change, 2 more error coins were released by The Royal Mint in popular coin packs. These packs sold for just a few pounds each and are both now worth over £1000 if they contain an error coin. See which coin packs to look for and find out more about coin hunting error coins, including how one Coin Hunter bought a coin pack for £10 on ebay and sold it for £750 a few weeks later.
WANTED: Error Coins - £1000 reward!
If you find an error coin, add details to the UK Error Coin database. Coin Hunter will make you an offer to buy your coin and will pay £1000 for an error coin that nobody has found before, even if it has a face value of just 1p.*
If you don't find an error coin, don't worry as registered Coin Hunters can even find real error coins by checking free handfuls of virtual change!
On a single day in April, £1 million pounds of virtual change will be handed out to Coin Hunters, including undated 20p coins, flag error £2 coins and a bronze 20p that could be worth over £1,000. The lucky people who find virtual error coins will receive the real thing free with free postage.
*Offers to buy error coins will be made on any error coin listed here or any coin with an original error confirmation letter from The Royal Mint Museum.
£1000 offer applies only to first tier mint errors. These are errors that produce a coin that is significantly different to the coin that was intended to be produced, which includes coins minted using the incorrect blank, similar to the silver colour 2p (for example: a bronze 10p, where a 10p design is struck onto a 2p blank) or coins minted using an incorrect die (mules) similar to the undated 20p. All other error types must be explicitly excluded from this offer to discourage deliberate manipulation of coins.
If you find a first tier mint error coin that is not listed on this page, details will need to be added to the UK Error Coin database, we will then carry out further investigation and where applicable, arrange for the coin to be examined by The Royal Mint Museum.
If the coin is confirmed by The Royal Mint Museum as a genuine coin error and no coin with the same error has been seen before by The Royal Mint Museum, or online - we will make an offer of £1,000 for the coin, which you are free to accept or reject.
Only one £1000 offer will be made based to the first person to add a coin that meets all criteria to the Coin Hunter UK Error Coin database.