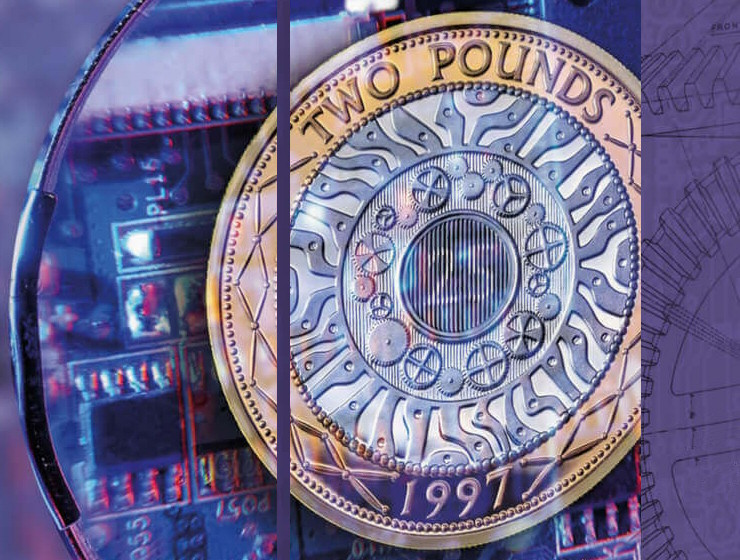 1997 - 2015 Technology £2 Pound Coins
There are 19 Technological Advancement £2 coins dated 1997 to 2015. A full set of Technology Brilliant Uncirculated two pounds (16 coins) is worth about £142.
All the Technology 2 pound coin dates entered circulation and can be found in your change. See circulation mintage for each coin in the list below.
16 dates were struck as Brilliant Uncirculated, 1999, 2006 and 2007 coins were not struck as BU as the sets in those years included other commemorative £2 coins.
2015 Technology £2 Coin
Edge Inscription: STANDING ON THE SHOULDERS OF GIANTS
Circulation Mintage: 35,360,058
BU Mintage: 34,308
2014 Technology £2 Coin
Edge Inscription: STANDING ON THE SHOULDERS OF GIANTS
Circulation Mintage: 18,200,000
BU Mintage: 32,233
2013 Technology £2 Coin
Edge Inscription: STANDING ON THE SHOULDERS OF GIANTS
Circulation Mintage: 15,860,250
BU Mintage: 38,149
2012 Technology £2 Coin
Edge Inscription: STANDING ON THE SHOULDERS OF GIANTS
Circulation Mintage: 3,900,000
BU Mintage: 77,725
2011 Technology £2 Coin
Edge Inscription: STANDING ON THE SHOULDERS OF GIANTS
Circulation Mintage: 24,375,030
BU Mintage: 121,319
2010 Technology £2 Coin
Edge Inscription: STANDING ON THE SHOULDERS OF GIANTS
Circulation Mintage: 6,890,000
BU Mintage: 99,338
2009 Technology £2 Coin
Edge Inscription: STANDING ON THE SHOULDERS OF GIANTS
Circulation Mintage: 8,775,000
BU Mintage: 108,402
2008 Technology £2 Coin
Edge Inscription: STANDING ON THE SHOULDERS OF GIANTS
Circulation Mintage: 30,107,000
BU Mintage: 79,118
2007 Technology £2 Coin
Edge Inscription: STANDING ON THE SHOULDERS OF GIANTS
Circulation Mintage: 10,270,000
BU Mintage: 0
2006 Technology £2 Coin
Edge Inscription: STANDING ON THE SHOULDERS OF GIANTS
Circulation Mintage: 16,715,000
BU Mintage: 0
2005 Technology £2 Coin
Edge Inscription: STANDING ON THE SHOULDERS OF GIANTS
Circulation Mintage: 3,837,250
BU Mintage: 81,700
2004 Technology £2 Coin
Edge Inscription: STANDING ON THE SHOULDERS OF GIANTS
Circulation Mintage: 11,981,500
BU Mintage: 84,617
2003 Technology £2 Coin
Edge Inscription: STANDING ON THE SHOULDERS OF GIANTS
Circulation Mintage: 17,531,250
BU Mintage: 112,999
2002 Technology £2 Coin
Edge Inscription: STANDING ON THE SHOULDERS OF GIANTS
Circulation Mintage: 13,024,750
BU Mintage: 106,096
2001 Technology £2 Coin
Edge Inscription: STANDING ON THE SHOULDERS OF GIANTS
Circulation Mintage: 34,984,750
BU Mintage: 107,277
2000 Technology £2 Coin
Edge Inscription: STANDING ON THE SHOULDERS OF GIANTS
Circulation Mintage: 25,770,000
BU Mintage: 174,089
1999 Technology £2 Coin
Edge Inscription: STANDING ON THE SHOULDERS OF GIANTS
Circulation Mintage: 33,719,000
BU Mintage: 0
1998 Technology £2 Coin
Edge Inscription: STANDING ON THE SHOULDERS OF GIANTS
Circulation Mintage: 91,110,375
BU Mintage: 132,513
1997 History of Technological Achievement £2 Coin
Edge Inscription: STANDING ON THE SHOULDERS OF GIANTS
Circulation Mintage: 13,734,625
BU Mintage: 149,905