find the coin you're looking for
2016 Battle of Hastings 50p Coin
The Battle of Hastings 50p coin can be found in your change, 6,700,000 coins entered circulation dated 2016.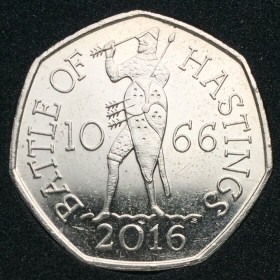 2016 Battle of Hastings 50 Pence
The only fact many people seem to recall from their school days is that the Battle of Hastings took place in 1066. Ask the same people what it was about and they will very likely look blank. I am also looking it up online as I have no idea.
Fresh from a Wikipedia page I am still not sure, but the coin seems to show the death of King Harold which led to a victory for the Normans.
I am not sure why this was a good thing or what may have happened if the Normans had lost, but it must be quite important as The Royal Mint could not wait 50 more years to release this coin – so it marks the 950th anniversary in 2015.
How much is the Battle of Hastings 50p worth?
A 50p coin created for UK circulation by The Royal Mint will always be worth at least 50p. The coin can be in pretty much any condition and a shop will accept it as face value payment.
When a coin is considered collectable by a large number of people, even if the coin was struck to be used in circulation - it's value to a collector will rise to more than face value. In 2009 a coin was struck to celebrate the 250th anniversary of Kew Gardens, with a low mintage of 210,000 coins for circulation, the Kew Gardens 50p now sells for about 140 times face value.
The Battle of Hastings 50p is worth £1.20 to a circulation coin collector taking part in The Great British Coin Hunt.
Coin values given are based on recent sold prices as at the page updated date shown at the bottom of this page. To view the likely selling price on eBay today, use the Coin Hunter eBay sold price checker.
50p Coin Specification
Reverse Designer
John Bergdahl
Obverse Designer
Jody Clark
UK Decimal Coins
|
Coins for Sale
|
Coin Valuations
|
Coin Dealers
|
Great British Coin Hunt

© Coin Hunter Limited | Company number 10925477 England
Contact Us
|
Privacy Policy
Page Updated: 30 January 2019