Following the success of the 2016 Beatrix Potter set of five 50p coins, the Royal Mint have created a new 2017 set of four Beatrix Potter characters which include a second Peter Rabbit design and designs featuring Mr Jeremy Fisher, Benjamin Bunny and Tom Kitten.
The first in the set was released in April as a Brilliant Uncirculated coin in a fold-out case and as a colour printed silver proof coin with a limited presentation of 30,000 units.
The second coin in the Beatrix Potter 2017 Collection - Mr Jeremy Fisher 50p was released on the 5th June 2017. This character is taken from the Beatrix Potter book The Tale of Mr. Jeremy Fisher published in 1906. Jeremy Fisher is a Macintosh wearing frog who lives in a little house at the edge of a pond.
Like the five 50p coins of 2016, these four have now also entered general circulation, so can be found in your change.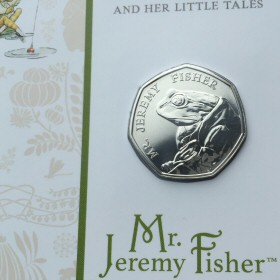 Jeremy Fisher Royal Mint Presentation Folder
The cupro-nickel Mr. Jeremy Fisher 2017 Brilliant Uncirculated 50p Coin is presented in an informative and well-designed fold-out case.
A number of other retailers also stock the exact same product, prices can vary greatly so to help you we have compiled a price comparison table at the bottom of this page.
Coin Hunter supplies the exact same display folder product that can be purchased from The Royal Mint for £10. We check competitor prices regularly to bring you great products at competitive prices.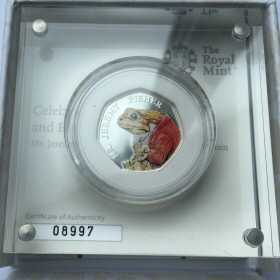 Mr Jeremy Fisher 2017 UK 50p Silver Proof Coin
The Mr. Jeremy Fisher 2017 UK 50p Silver Proof Coin is struck in 925 sterling silver and finished to Proof standard. Apart from being made from silver instead of cupro-nickel, the specification details are the same as the BU version of the coin.
The silver versions from the Beatrix Potter range have proven very popular with collectors, who like the quality of the colour printing on the coin as well as the excellent presentation packaging which mounts the coin in a very neat perspex block and plastic coin capsule.