find the coin you're looking for
2010 Girlguiding 50p Coin
The Girlguiding 50p coin can be found in your change, 7,410,090 coins entered circulation dated 2010.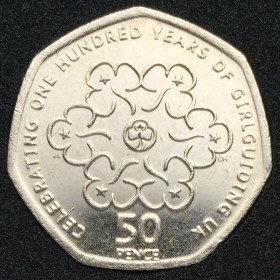 2010 Girlguiding 50 Pence
CELEBRATING 100 YEARS OF GIRLGUIDING UK is the message that surrounds the edge of the coins face. The centre of the coin uses the Girlguiding logo 6 times around one smaller central logo.
This coin was designed by 2 people and so shows 2 sets of initials which are barely visible to the naked eye. Click the image of the coin to view a zoomed in version where you will see JE for Jonathan Evans and DH for Donna Hainan.
How much is the Girlguiding 50p worth?
A 50p coin created for UK circulation by The Royal Mint will always be worth at least 50p. The coin can be in pretty much any condition and a shop will accept it as face value payment.
When a coin is considered collectable by a large number of people, even if the coin was struck to be used in circulation - it's value to a collector will rise to more than face value. In 2009 a coin was struck to celebrate the 250th anniversary of Kew Gardens, with a low mintage of 210,000 coins for circulation, the Kew Gardens 50p now sells for about 140 times face value.
The Girlguiding 50p is worth £1.23 to a circulation coin collector taking part in The Great British Coin Hunt.
Coin values given are based on recent sold prices as at the page updated date shown at the bottom of this page. To view the likely selling price on eBay today, use the Coin Hunter eBay sold price checker.
50p Coin Specification
Reverse Designer
Jonathan Evans and Donna Hainan
Obverse Designer
Ian Rank-Broadley FRBS
UK Decimal Coins
|
Coins for Sale
|
Coin Valuations
|
Coin Dealers
|
Great British Coin Hunt

© Coin Hunter Limited | Company number 10925477 England
Contact Us
|
Privacy Policy
Page Updated: 30 January 2019