find the coin you're looking for
The Gruffalo 50p Coin
A new range of Gruffalo fifty pence coins will be available to buy from The Royal Mint on Tuesday the 19th of February. A Brilliant Uncirculated 50p will be available in a presentation folder, there will also be a boxed colour silver proof Gruffalo 50p and a gold proof version.
The Gruffalo Brilliant Uncirculated 50p Coin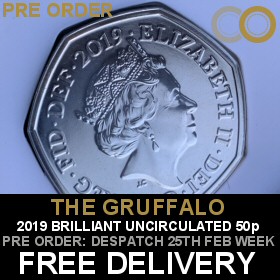 A depiction of the obverse of the coin
Images of the coin designs have been released on social media, view the Guffalo 50p coins on Facebook.
The Royal Mint social media team replied to the question "Is it going into circulation?" with "The Gruffalo coin is only being launched as a commemorative coin to celebrate 20 years, it will not go into circulation."
From the 19th of February, you will be able to buy the same Royal Mint packaged coin direct from The Royal Mint. The delivery charges section on the website showns that orders of £20 and under would incur a £3 standard delivery charge.
The Coin Hunter pre-order supply of this product has now sold out: Brilliant Uncirculated Gruffalo 50p in the official Royal Mint presentation folders which will cointain information about the story of The Guffalo and images drawn by the illustrator Axel Scheffler.
The Gruffalo Silver Proof Colour 50p Coin
The colour silver proof 50p coins have proved very popular, with some releases selling out quicky. The colour Gruffalo 50p will no doubt be in demand, but future values and availability will all depend of the number produced.
The silver Paddington 50p coins both had high limited edition production numbers: 60,000 of each, but The Snowman 50p silver proof had a limited edition 4 times lower (15,000). Here at Coin Hunter, we expect the number produced to be somewhere in the middle, perhaps 25,000. If this estimate is close to correct, there will be enough for all those who would like to add the colour print silver proof Gruffalo 50p to their collection.
The Gruffalo Gold Proof 50p Coin
This coin will be produced in small numbers as fewer collectors have the expected £780 available to buy gold 50p coins.
The Gruffalo 2019 UK 50p Gold Proof Coin will be presented in a wooden box with a numbered certificate of authenticty (COA).
Coin Design
Obverse lettering ELIZABETH II ∙ D ∙ G ∙ REG ∙ F ∙ D ∙ 50 PENCE and the date 2019 and for the reverse a depiction of the Gruffalo accompanied by the inscription THE GRUFFALO.
50p Coin Specification
Reverse Designer
Magic Light Pictures
Obverse Designer
Jody Clark
UK Decimal Coins
|
Coins for Sale
|
Coin Valuations
|
Coin Dealers
|
Great British Coin Hunt

© Coin Hunter Limited | Company number 10925477 England
Contact Us
|
Privacy Policy
Page Updated: 18 February 2019