find the coin you're looking for
L for Loch Ness 10p from the 2018 A to Z 10p Collection
Myth, legend or based on fact – the stories of Nessie the Lock Ness monster have been told for hundreds of years. The coin design showing an L with the monsters tale wrapped around looks to have been based on the famous 1934 "photograph" of the Lock Ness monster.
The Loch Ness 10p coin can be found in your change, coins entered circulation dated 2018.
This A to Z 10p and the other 25 designs can now be purchased direct from Coin Hunter. BUY NOW: A-Z 10p Coins (Free Delivery).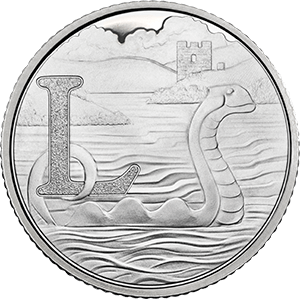 L - Loch Ness 10p
The Royal Mint released the Quintessentially British A to Z coin 10p collection in March 2018, with first strike L for Loch Ness coins sold online for £2 each, or on a card from The Royal Mint shop for £4.
There is also a Loch Ness 2018 UK 10p Silver Proof Coin available, priced at £35 (6.5g of .925 Sterling Silver in a capsule) or presented in an Acrylic Block at £45 (Limited Edition 15,000)
You can store your letter L 10p with the rest of the alphabet in the Great British Coin Hunt 2018 10p Coin Collector Album.
There is also a Great British Coin Hunt Silver Proof Case that can be purchased for £45, but you will need to spend £910 (£35 x 26) to fill it.
If you want to display a selection of 10p letters, for example to spell out a name, the Great British Coin Hunt Name Frame is available in black or white for £20 and holds up to 8 coins.
10p Coin Specification
Reverse Designer
The Royal Mint Team
Obverse Designer
Jody Clark
UK Decimal Coins
|
Coins for Sale
|
Coin Valuations
|
Coin Dealers
|
Great British Coin Hunt

© Coin Hunter Limited | Company number 10925477 England
Contact Us
|
Privacy Policy
Page Updated: 25 February 2019