find the coin you're looking for
X for X Marks the Spot 10p from the 2018 A to Z 10p Collection
As with every alphabet list, there is always a tricky one and it is likely to be X unless it is a list a medical procedures that involve imaging. This X marks the spot coin is a nod to Britain's history relating to pirates and buried treasure. Arrrghhhhh.
The X Marks the Spot 10p coin can be found in your change, coins entered circulation dated 2018.
This A to Z 10p and the other 25 designs can now be purchased direct from Coin Hunter. BUY NOW: A-Z 10p Coins (Free Delivery).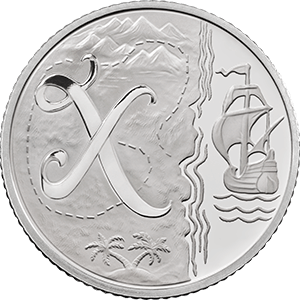 X - X Marks the Spot 10p
The Royal Mint released the Quintessentially British A to Z coin 10p collection in March 2018, with first strike X for X Marks the Spot coins sold online for £2 each, or on a card from The Royal Mint shop for £4.
There is also a X Marks the Spot 2018 UK 10p Silver Proof Coin available, priced at £35 (6.5g of .925 Sterling Silver in a capsule) or presented in an Acrylic Block at £45 (Limited Edition 15,000)
You can store your letter X 10p with the rest of the alphabet in the Great British Coin Hunt 2018 10p Coin Collector Album.
There is also a Great British Coin Hunt Silver Proof Case that can be purchased for £45, but you will need to spend £910 (£35 x 26) to fill it.
If you want to display a selection of 10p letters, for example to spell out a name, the Great British Coin Hunt Name Frame is available in black or white for £20 and holds up to 8 coins.
10p Coin Specification
Reverse Designer
The Royal Mint Team
Obverse Designer
Jody Clark
UK Decimal Coins
|
Coins for Sale
|
Coin Valuations
|
Coin Dealers
|
Great British Coin Hunt

© Coin Hunter Limited | Company number 10925477 England
Contact Us
|
Privacy Policy
Page Updated: 25 February 2019