50p coin struck in 2022 to commemorate the life and achievements of Alan Turing, mathematician and computer scientist who played a crucial role in cracking Enigma machine coded messages during World War II.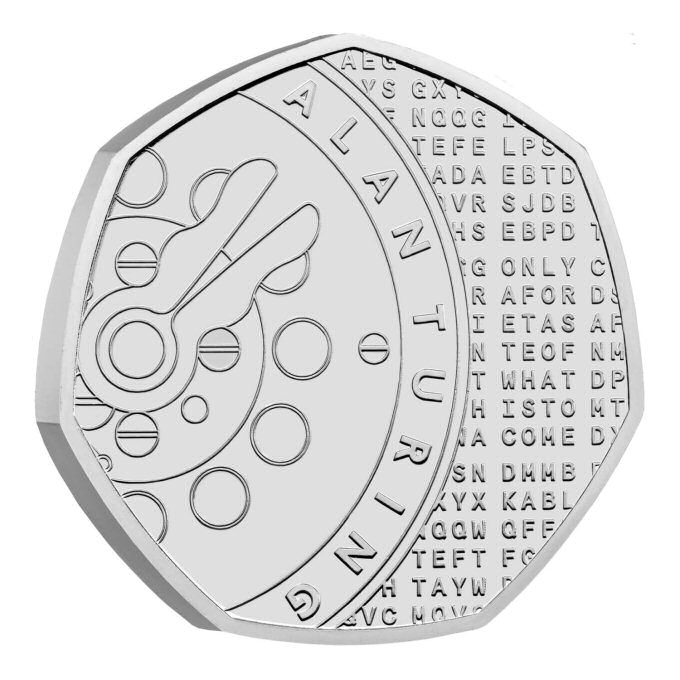 CLUE: Use this coin to crack the code. The coin image shown is an exclusive Coin Hunter design based on a wheel from Turing's anti-Enigma "bombe" - the machine used to crack encoded German communications at Bletchley Park during The Second World War.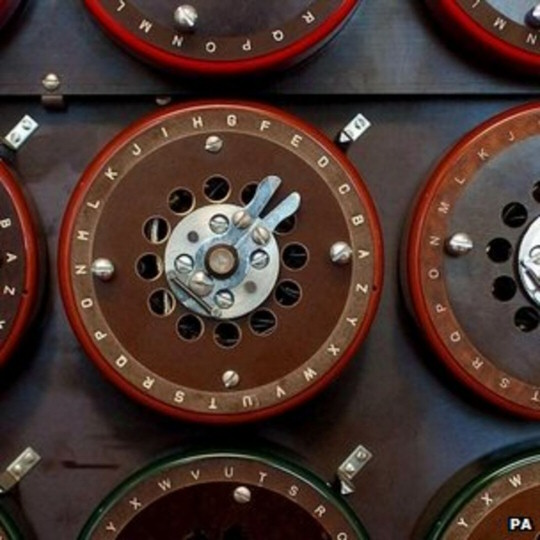 Image Credit: BBC News -
Alan Turing: The codebreaker who saved 'millions of lives'
The actual Royal Mint coin design will be different - it will show a cogwheel (which may not be a wheel from the machine shown above) and the inscription "ALAN TURING" set against a background of letters.
Release Date: Alan Turing Fifty Pence
The Alan Turing 50p products have now been added to The Royal Mint imminent release list - whilst this would normally mean the coin will be issued very soon, there have been release delays due to production schedule issues at The Royal Mint.
The Kanga & Roo 50p should have been released in June but was delayed. It is very likely that the Turing 50p coins will now be the next release as 23 June 2022 was the 110th anniversary of the birth of Alan Mathison Turing.
UK22ATBU: Alan Turing 2022 UK 50p Brilliant Uncirculated Coin - £10
UK22ATSP: Alan Turing 2022 UK 50p Silver Proof Coin - £62.50
UK22ATPF: Alan Turing 2022 UK 50p Silver Proof Piedfort Coin - £102.50
UK22ATGP: Alan Turing 2022 UK 50p Gold Proof Coin - £1095
Alan Turing 50p Coin Mintage and Price
Not found in change: 0 coins created to enter circulation. BU mintage figures have not been published. Prices from £4.90 on issue if buying from Coin Hunter (£4.95 from Koin Club and £4.99 from Change Checker).
There are many 50p coin designs that can be found in your change - find out which 50p coins are the most valuable?
Crack the code to be in with a chance of winning a Brilliant Uncirculated Alan Turing Coin Hunter card Royal Mint 50p.
OYRGPUYRL
If you can crack the code, keep it secret and send the message to the Coin Hunter page as a Facebook private message.
Coin Reverse (tails side)
A design depicting a cogwheel accompanied by the inscription "ALAN TURING" set against a background of letters.
Coin Obverse (heads side)
5th portrait of Queen Elizabeth II by Jody Clark with the inscription "ELIZABETH II • D • G • REG • F • D • 50 PENCE • 2022 •".
Coin Specification
Denomination: 50p
Alloy: Cupronickel
Weight: 8g
Diameter: 27.3mm
Quality: BU
Year: 2022
Browse and search the Coin Hunter Coin Database to find values, mintages and sales figures for 50p and £2 coins and Royal Mint coin packs dated 1997 to 2022.