The Sports Collection Aquatics 50p was designed by Jonathan Olliffe.
2011 mintage of 2179000 entered circulation to represent Aquatics being part of the London 2012 Olympics.
The Aquatics 50p coin is worth 50p but as a collectors item we value a good condition circulation London 2012 50p Sports Collection - Aquatics fifty pence at £1.75.
It has been called the swimming 50p, but with the 2016 Team GB coin also featuring swimming (front view of the butterfly stroke), this could cause confusion.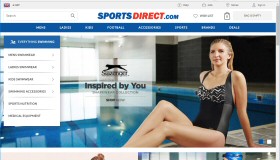 Join London 2012 Sports Challenge and take part in Aquatics. Find a club or learn more from British Swimming. Take a look at the range of equipment for Swimming at Sports Direct.
In a Royal Mint video interview with the Aquatics coin designer Jonathan Olliffe, asked what got you interested in the competition?, Jonathan said: I chose to enter this competition as I saw it as a challenge, the aquatics one was a challenge because of creating the illusion of water on a coin.