find the coin you're looking for
Badminton 50p Coin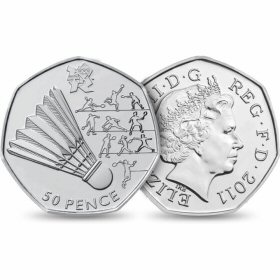 The Sports Collection Badminton 50p was designed by Emma Kelly.
2011 mintage of 2133500 entered circulation to represent Badminton being part of the London 2012 Olympics.
The Badminton 50p coin is worth 50p but as a collectors item we value a good condition circulation London 2012 50p Sports Collection - Badminton fifty pence at £1.49.
The shuttlecock used to play badminton is at the forefront of this coin design, so it is not a surprize that this coin is known by some as the shuttlecock 50p.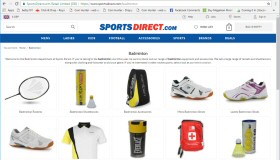 Join London 2012 Sports Challenge and take part in Badminton. Find a club or learn more from Badminton England. Take a look at the range of equipment for Badminton at Sports Direct.
In a Royal Mint video interview with the Badminton coin designer Emma Kelly, asked why did you choose Badminton for your design?, Emma said: I choose Badminton as I knew I would enjoy drawing the shuttlecock, I then wanted to add people and the human element into the space and give those people a sense of dynamism and giving and showing people a game.
Badminton made its Olympic debut at Barcelona 1992.
In singles the side tramlines are out and the base tramline is in, for doubles the side tramlines are in and the baseline is in after the service.
Badminton is a fast paced game with 40 to 50 strokes being played in 20 seconds.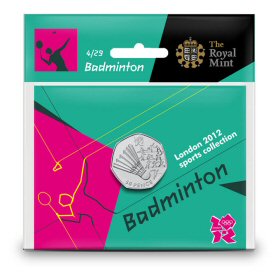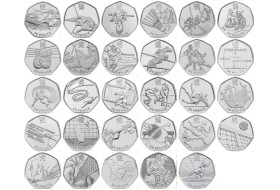 London 2012 50p Sports Collection
UK Decimal Coins
|
Coins for Sale
|
Coin Valuations
|
Coin Dealers
|
Great British Coin Hunt

© Coin Hunter Limited | Company number 10925477 England
Contact Us
|
Privacy Policy
Page Updated: 30 January 2019