find the coin you're looking for
Boxing 50p Coin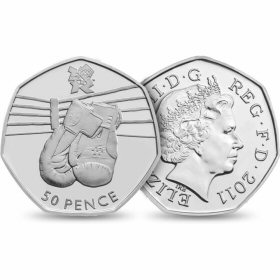 The Sports Collection Boxing 50p was designed by Shane Abery.
2011 mintage of 2148500 entered circulation to represent Boxing being part of the London 2012 Olympics.
The Boxing 50p coin is worth 50p but as a collectors item we value a good condition circulation London 2012 50p Sports Collection - Boxing fifty pence at £1.44.
Boxing gloves are the main feature of this coin with the ropes of the boxing ring in the background.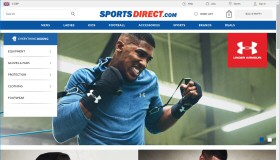 Join London 2012 Sports Challenge and take part in Boxing. Find a club or learn more from England Boxing. Take a look at the range of equipment for Boxing at Sports Direct.
In a Royal Mint video interview with the Boxing coin designer Shane Abery, asked what was the inspiration behind your idea?, Shane said: The idea was quite easy really, to me the sport of boxing is boxing gloves and its symbolic and everyone can see a pair of boxing gloves and quickly link the gloves to the sport so it was just laying them out in the right way so people would notice and immediately say yes that's boxing.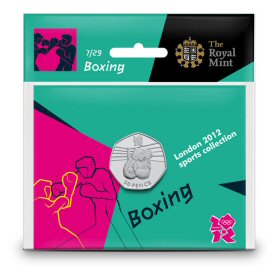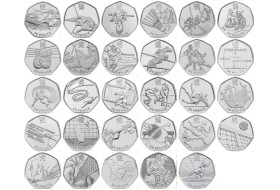 London 2012 50p Sports Collection
UK Decimal Coins
|
Coins for Sale
|
Coin Valuations
|
Coin Dealers
|
Great British Coin Hunt

© Coin Hunter Limited | Company number 10925477 England
Contact Us
|
Privacy Policy
Page Updated: 30 January 2019