find the coin you're looking for
Canoeing 50p Coin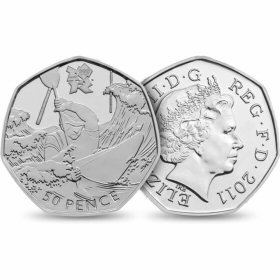 The Sports Collection Canoeing 50p was designed by Timothy Lees.
2011 mintage of 2166500 entered circulation to represent Canoeing being part of the London 2012 Olympics.
The Canoeing 50p coin is worth 50p but as a collectors item we value a good condition circulation London 2012 50p Sports Collection - Canoeing fifty pence at £1.34.
Kayaking is also an Olympic sport like canoeing but the athlete kneels and uses a single-bladed paddle.
In a Royal Mint video interview with the Canoeing coin designer Timothy Lees, asked what was the inspiration behind your idea?, Timothy said: I had started off the design just on a purely visual attempt by trying to get dynamic lines which cross and work together and with the lower leaf I was quite interested in trying to make layers which overlapped so that it gave the appearance of depth despite it being a very shallow relief but that was the technical side of it, I think I had really been inspired by seeing some of the previous Olympic courses and seeing the canoes going down the incredible water courses, it looked absolutely amazing, completely dynamic, I wanted to try and capture that energy within the coin.
Olympic canoe events debuted at Berlin 1936 for men and at London 1948 for women. Slalom was introduced at Munich 1972. The aim of all canoe events is to finish the race in the quickest time possible.
Canoe Sprint: Three distance events of 200, 500 and 1000 meters on a straight flat water course. Athletes compete in heats and then the top nine compete in the final for the medals.
Canoe Slalom: Courses up to 250 meters long containing 20 to 25 gates. Athletes receive a 2 second penalty for contact with a gate and a 50 second penalty if they miss one. The top ten compete in the final for the medals.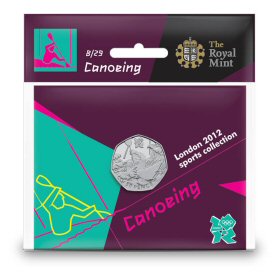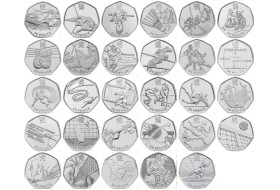 London 2012 50p Sports Collection
UK Decimal Coins
|
Coins for Sale
|
Coin Valuations
|
Coin Dealers
|
Great British Coin Hunt

© Coin Hunter Limited | Company number 10925477 England
Contact Us
|
Privacy Policy
Page Updated: 30 January 2019