The Sports Collection Cycling 50p was designed by Theo Crutchley-Mack.
2011 mintage of 2090500 entered circulation to represent Cycling being part of the London 2012 Olympics.
The Cycling 50p coin is worth 50p but as a collectors item we value a good condition circulation London 2012 50p Sports Collection - Cycling fifty pence at £1.24.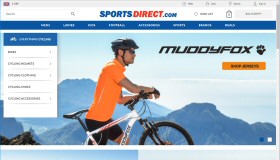 Join London 2012 Sports Challenge and take part in Cycling. Find a club or learn more from British Cycling. Take a look at the range of equipment for Cycling at Sports Direct.
In a Royal Mint video interview with the Cycling coin designer Theo Crutchley-Mack, asked what was the inspiration behind your idea?, Theo said: I'm really in to my art and I love doing projects and things like that so I did loads of research, I got all kinds of pictures even some of myself on my own bike and stuck them all up in my room and did some sketches to start off with and I ended up with this final design.
Men's track cycling made its debut at Athens 1896 and women's at soul 1988. Cyclists compete on oval-shaped 250 meter track to achieve the fastest time. In the Keirin event a pacer is used in the first 5 1/2 laps keeping the athletes together, the cyclists then sprint to the finish over the last 2 1/2 laps.
Individual pursuit has 2 athletes start at opposite sides of the track and attempt to record the fastest time.
Elimination race starts with 24 cyclists, but the rider who is in last place every two laps is eliminated, until one remains as the winner.
The Royal Mint London 2012 50p Sports Collection - Cycling coin 9/29 LUK50CYC was priced at £2.99 when released, but since then the value has increased and it is now worth three times that amount.
Chris Holly from Great Britain is the most successful track cyclist (up to London 2012) with six gold and one silver medal. Team GB won 6 gold medals at London 2012 including men's sprint gold for Jason Kenny and women's Keirin gold for Victoria Pendleton. View the full London 2012 Cycling results courtesy of olympic.org