find the coin you're looking for
Equestrian 50p Coin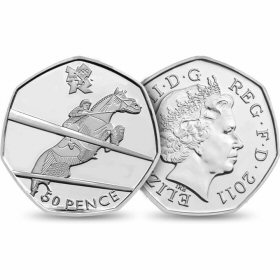 The Sports Collection Equestrian 50p was designed by Thomas Babbage.
2011 mintage of 2142500 entered circulation to represent Equestrian being part of the London 2012 Olympics.
The Equestrian 50p coin is worth 50p but as a collectors item we value a good condition circulation London 2012 50p Sports Collection - Equestrian fifty pence at £1.48.
This coin is also referred to as the horse riding or show jumping 50p.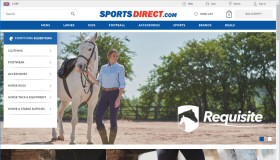 Join London 2012 Sports Challenge and take part in Equestrian. Find a club or learn more from British Equestrian Federation. Take a look at the range of equipment for Equestrian at Sports Direct.
In a Royal Mint video interview with the Equestrian coin designer Thomas Babbage, asked what was the inspiration behind your idea?, Thomas said: In terms of research for my coin I looked at various photos seeing different ways that horses appear within horse riding events and I wanted to make the horse look true to a horse riding event so that the people who know a lot about horse riding would feel that this is something that they would see on a regular occasion
Equestrian jumping made its debut in Paris 1900 and eventing at Stockholm 1912.
In jumping riders complete a course of 10 to 13 obstacles the aim is to do this in the fastest time with fewest penalties. There are individual and team competitions based on three elimination rounds, with the top 20 riders competing in the final where the rider with the fewest penalties wins.
Eventing combines dressage, jumping and cross country. In dressage the riders prompt the horse to perform a series of predetermine moves, the cross country event consists of 40 to 45 obstacles where the riders must complete the course in a given time and in the jumping round of eventing the horse and rider must clear 9 to 12 obstacles. The combination of the lowest penalties at the end of all three disciplines wins.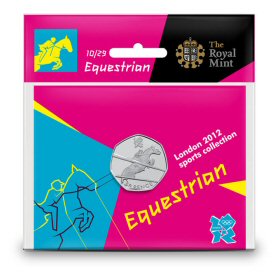 The Royal Mint London 2012 50p Sports Collection - Equestrian coin 10/29 LUK50EQS was priced at £2.99 when released, but since then the value has increased and it is now worth three times that amount.
At London 2012 Great Britain won gold in the jumping team mixed event and the dressage team Grand Prix mixed event. View the full London 2012 Equestrian results courtesy of olympic.org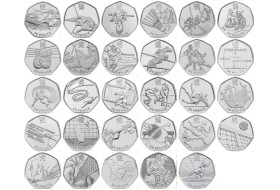 London 2012 50p Sports Collection
UK Decimal Coins
|
Coins for Sale
|
Coin Valuations
|
Coin Dealers
|
Great British Coin Hunt

© Coin Hunter Limited | Company number 10925477 England
Contact Us
|
Privacy Policy
Page Updated: 30 January 2019