find the coin you're looking for
Fencing 50p Coin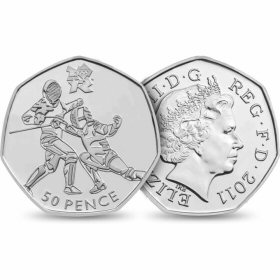 The Sports Collection Fencing 50p was designed by Ruth Summerfield.
2011 mintage of 2115500 entered circulation to represent Fencing being part of the London 2012 Olympics.
The Fencing 50p coin is worth 50p but as a collectors item we value a good condition circulation London 2012 50p Sports Collection - Fencing fifty pence at £1.25.
In a Royal Mint video interview with the Fencing coin designer Ruth Summerfield, asked what was the inspiration behind your idea?, Ruth said: I don't play any sport myself but I have a friend who fences and which gave me the initial idea and I tried to pick a sport where the body makes interesting and dramatic shapes as I thought it would translate well onto a coin.
Men's fencing was included in the Olympics in 1896 Athens and four women in 1924 Paris.
Points are earned when a player strikes their opponent in the target area with a sword, individual bouts last for three 3 minute rounds or the first to 15 points.
There are three disciplines using three different swords, a lightweight blade called a foil, the Sabre (the shortest blade) and the epee (the longest and heaviest blade).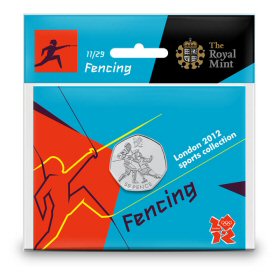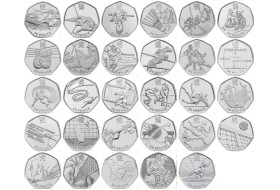 London 2012 50p Sports Collection
UK Decimal Coins
|
Coins for Sale
|
Coin Valuations
|
Coin Dealers
|
Great British Coin Hunt

© Coin Hunter Limited | Company number 10925477 England
Contact Us
|
Privacy Policy
Page Updated: 30 January 2019