find the coin you're looking for
Handball 50p Coin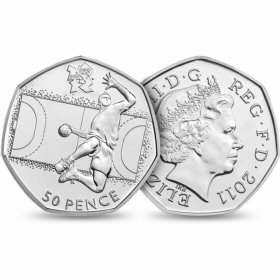 The Sports Collection Handball 50p was designed by Natasha Ratcliffe.
2011 mintage of 1676500 entered circulation to represent Handball being part of the London 2012 Olympics.
The Handball 50p coin is worth 50p but as a collectors item we value a good condition circulation London 2012 50p Sports Collection - Handball fifty pence at £2.15.
In a Royal Mint video interview with the Handball coin designer Natasha Ratcliffe, asked why did you choose handball for your design?, Natasha said: I've never played handball but when I've watched it people are jumping around and their arms are always high with so much action, they are always off the ground and it reminded me of sponge ball games when you are a kid, hurling balls at each other, very dynamic and I wanted to get that on the coin.
Handball gained permanent status as an Olympic sport in 1972. 7 people on each team play two 30 minute halves. Players can take 3 steps and then need to dribble the ball, goals are scored by throwing the ball into the net from outside a 6 meter zone.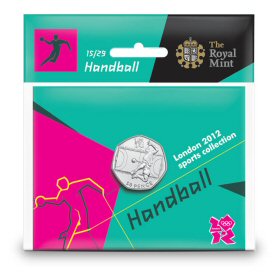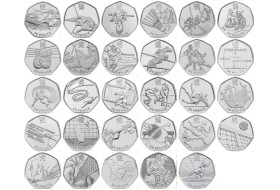 London 2012 50p Sports Collection
UK Decimal Coins
|
Coins for Sale
|
Coin Valuations
|
Coin Dealers
|
Great British Coin Hunt

© Coin Hunter Limited | Company number 10925477 England
Contact Us
|
Privacy Policy
Page Updated: 30 January 2019