find the coin you're looking for
Hockey 50p Coin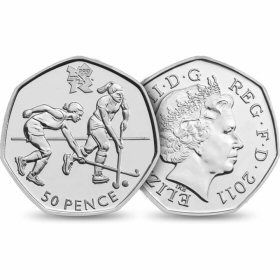 The Sports Collection Hockey 50p was designed by Robert Evans.
2011 mintage of 1773500 entered circulation to represent Hockey being part of the London 2012 Olympics.
The Hockey 50p coin is worth 50p but as a collectors item we value a good condition circulation London 2012 50p Sports Collection - Hockey fifty pence at £2.18.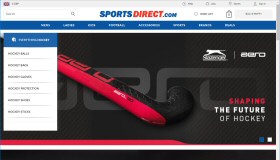 Join London 2012 Sports Challenge and take part in Hockey. Find a club or learn more from England Hockey. Take a look at the range of equipment for Hockey at Sports Direct.
In a Royal Mint video interview with the Hockey coin designer Robert Evans, asked what was the inspiration behind your idea?, Robert said: For my hockey design I got in touch with the University of Glamorgan who were good enough to give me two international standard hockey players for the afternoon in a gymnasium. I went along with my camera and took lots of shots of them so I had enough photographs to work with to enable me to get all the information for the detail of the design.
A match is 11 a side and 60 minutes (four 15 minute quarters) long. The ball can only be touched with the players stick with the exception of the goalkeeper who can use stick and body. Goals can only be scored from within the semi-circle around the goal.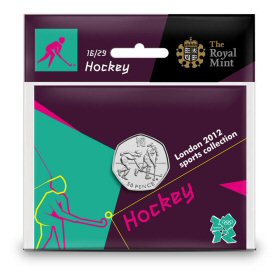 The Royal Mint London 2012 50p Sports Collection - Hockey coin 16/29 LUK50HOC was priced at £2.99 when released, but since then the value has increased and it is now worth three times that amount.
Germany won the men's hockey gold medal with the women's gold going to the team from the Netherland at London 2012. Team GB women won the third place play-off to take the bronze medal. View the full London 2012 Hockey results courtesy of olympic.org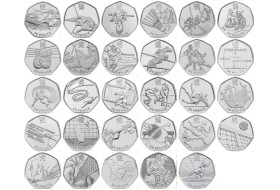 London 2012 50p Sports Collection
UK Decimal Coins
|
Coins for Sale
|
Coin Valuations
|
Coin Dealers
|
Great British Coin Hunt

© Coin Hunter Limited | Company number 10925477 England
Contact Us
|
Privacy Policy
Page Updated: 30 January 2019