find the coin you're looking for
Judo 50p Coin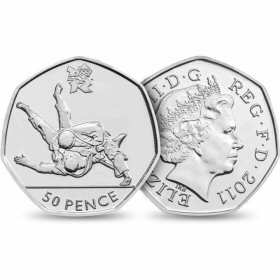 The Sports Collection Judo 50p was designed by David Cornell.
2011 mintage of 1161500 entered circulation to represent Judo being part of the London 2012 Olympics.
The Judo 50p coin is worth 50p but as a collectors item we value a good condition circulation London 2012 50p Sports Collection - Judo fifty pence at £8.06.
In a Royal Mint video interview with the Judo coin designer David Cornell, asked why did you choose Judo for your design?, David said: I did contest Judo for many years and I got to a brown belt and in a contest to get my black belt I was thrown and you have to make a break fall to win a point and I didn't want to lose the point so I didn't make a break fall and I came down on my shoulder and damaged it really badly and so I had to bow out from Judo which is a shame.
Judo originated in Japan and translates to "The gentle way". In Olympic Judo matches, the goal if to throw your opponent to the floor so they land on their back (ippon) to win a match. Across 7 weight categories, fights last 5 minutes for men and 4 minutes for women.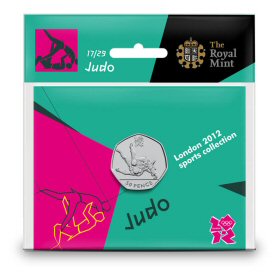 The Royal Mint London 2012 50p Sports Collection - Judo coin 17/29 LUK50JUD was priced at £2.99 when released, but since then the value has increased and it is now worth three times that amount.
London 2012 saw Team GB win two medals in women's judo, a bronze for Karina Bryant in the 78kg category and silver for Gemma Gibbons in the 70-78kg category. View the full London 2012 Judo results courtesy of olympic.org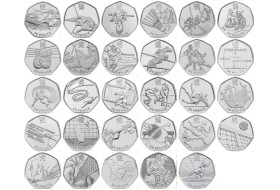 London 2012 50p Sports Collection
UK Decimal Coins
|
Coins for Sale
|
Coin Valuations
|
Coin Dealers
|
Great British Coin Hunt

© Coin Hunter Limited | Company number 10925477 England
Contact Us
|
Privacy Policy
Page Updated: 30 January 2019