find the coin you're looking for
Modern Pentathlon 50p Coin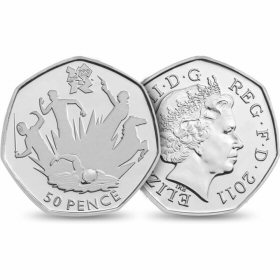 The Sports Collection Modern Pentathlon 50p was designed by Daniel Brittain.
2011 mintage of 1689500 entered circulation to represent Modern-Pentathlon being part of the London 2012 Olympics.
The Modern Pentathlon 50p coin is worth 50p but as a collectors item we value a good condition circulation London 2012 50p Sports Collection - Modern-Pentathlon fifty pence at £1.77.
In a Royal Mint video interview with the Modern-Pentathlon coin designer Daniel Brittain, asked why did you choose Modern Pentathlon for your design?, Daniel said: I picked Modern Pentathlon because of the challenge of getting five sports onto one coin.
The event was devised by modern Olympics founder Baron Pierre De Coubertin. Athletes compete in 5 events in one day, Epee Fencing, Swimming, Show Jumping, Running and Shooting (part of a single event at London 2012 and after). The athlete's start the final run (staggered) based on points attained in the other events, first to cross the line wins gold.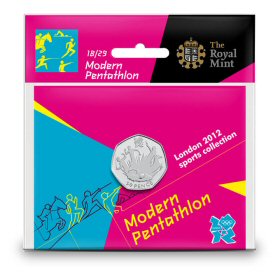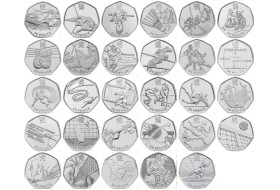 London 2012 50p Sports Collection
UK Decimal Coins
|
Coins for Sale
|
Coin Valuations
|
Coin Dealers
|
Great British Coin Hunt

© Coin Hunter Limited | Company number 10925477 England
Contact Us
|
Privacy Policy
Page Updated: 30 January 2019