find the coin you're looking for
Rowing 50p Coin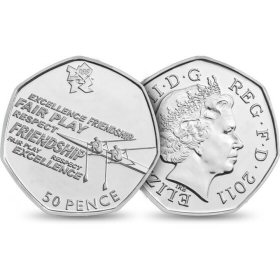 The Sports Collection Rowing 50p was designed by Davey Podmore.
2011 mintage of 1717300 entered circulation to represent Rowing being part of the London 2012 Olympics.
The Rowing 50p coin is worth 50p but as a collectors item we value a good condition circulation London 2012 50p Sports Collection - Rowing fifty pence at £2.00.
In a Royal Mint video interview with the Rowing coin designer Davey Podmore, asked what was the inspiration behind the design?, Davey said: I wanted to get over the impression of that moment in time and the passion that the sport people put into the event, the whole 'life has been working to this one moment, this one race' I wanted to get a feeling for that passion and the fact that as they are rowing through the water that they are leaving an imprint in their wake so I researched the boat design and the rowers but I also wanted to include words to give a story so I added the typography as well.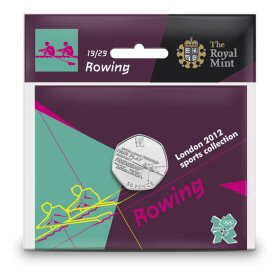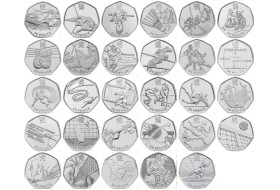 London 2012 50p Sports Collection
UK Decimal Coins
|
Coins for Sale
|
Coin Valuations
|
Coin Dealers
|
Great British Coin Hunt

© Coin Hunter Limited | Company number 10925477 England
Contact Us
|
Privacy Policy
Page Updated: 30 January 2019