find the coin you're looking for
Sailing 50p Coin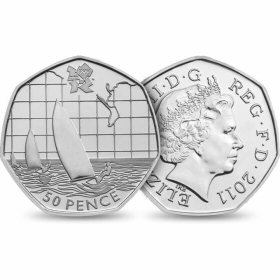 The Sports Collection Sailing 50p was designed by Bruce Rushin.
2011 mintage of 1749500 entered circulation to represent Sailing being part of the London 2012 Olympics.
The Sailing 50p coin is worth 50p but as a collectors item we value a good condition circulation London 2012 50p Sports Collection - Sailing fifty pence at £1.75.
This coin is sometimes called the sailing boat 50p.
In a Royal Mint video interview with the Sailing coin designer Bruce Rushin, asked what was the inspiration behind your idea?, Bruce said: I was certainly inspired by the successes of Ben Ainsley and was surprised when I started to research just how small the dinghy's are that he sails and that is the kind of yacht I tried to show in the design, I also found out that the sailing regatta was going to take place off the coast of Weymouth and so I wanted to get that very interesting coastal shape of Chesil Beach and Portland Bill into the design and for the background rather than using clouds or sky I decided to use latitude and longitude lines of a nautical chart.
Sailors complete in 11 races, sailing around a course marked with buoys, points are received based on finishing positions 1 for first, 2 for second etc, the 10 sailors with the least points compete in the final where lowest points total wins gold.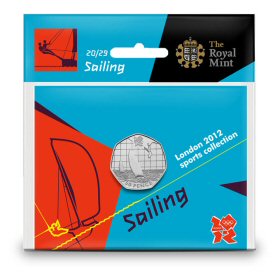 The Royal Mint London 2012 50p Sports Collection - Sailing coin 20/29 LUK50SAI was priced at £2.99 when released, but since then the value has increased and it is now worth three times that amount.
Great Britain took 4 silver medals from London 2012 sailing classes, 3 team events and 1 individual where Nick Dempsey finished second in the RSX windsurfer event. View the full London 2012 Sailing results courtesy of olympic.org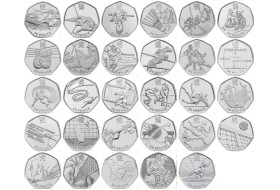 London 2012 50p Sports Collection
UK Decimal Coins
|
Coins for Sale
|
Coin Valuations
|
Coin Dealers
|
Great British Coin Hunt

© Coin Hunter Limited | Company number 10925477 England
Contact Us
|
Privacy Policy
Page Updated: 30 January 2019