find the coin you're looking for
Shooting 50p Coin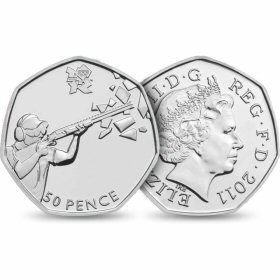 The Sports Collection Shooting 50p was designed by Pravin Dewdhory.
2011 mintage of 1656500 entered circulation to represent Shooting being part of the London 2012 Olympics.
The Shooting 50p coin is worth 50p but as a collectors item we value a good condition circulation London 2012 50p Sports Collection - Shooting fifty pence at £2.24.
In a Royal Mint video interview with the Shooting coin designer Pravin Dewdhory, asked why did you choose Shooting for your design?, Pravin said: I decided to choose shooting because I had an idea to take the shattered clay pigeon and I wanted to make a play on taking the 2012 logo and the geometric shapes that come from it and create the segments from the explosion that links back to the branding of 2012 so that was my connection, the idea that the clay pigeon would work with the 2012 branding and how that sport fitted with the idea I had.
Shooting made its Olympic debut at Athens 1896. In modern games, there are three disciplines, rifle, pistol and shotgun. In each discipline, athletes shoot at a target to gain points.
In the 10 meter rifle events, the highest scoring centre of the target is just 0.5mm in diameter.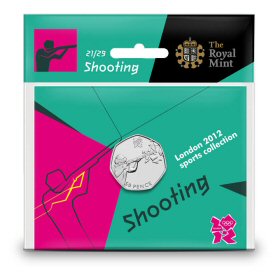 The Royal Mint London 2012 50p Sports Collection - Shooting coin 21/29 LUK50SHT was priced at £2.99 when released, but since then the value has increased and it is now worth three times that amount.
The shooting legend Kimberly Rhode from the USA took London 2012 gold in the women's skeet event - equalling her own world record. View the full London 2012 Shooting results courtesy of olympic.org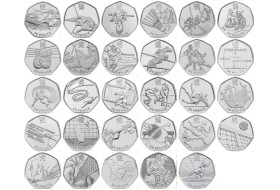 London 2012 50p Sports Collection
UK Decimal Coins
|
Coins for Sale
|
Coin Valuations
|
Coin Dealers
|
Great British Coin Hunt

© Coin Hunter Limited | Company number 10925477 England
Contact Us
|
Privacy Policy
Page Updated: 30 January 2019