find the coin you're looking for
Triathlon 50p Coin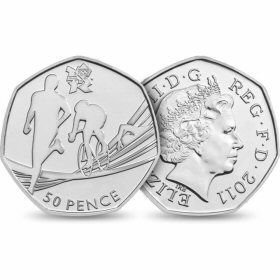 The Sports Collection Triathlon 50p was designed by Sarah Harvey.
2011 mintage of 1163500 entered circulation to represent Triathlon being part of the London 2012 Olympics.
The Triathlon 50p coin is worth 50p but as a collectors item we value a good condition circulation London 2012 50p Sports Collection - Triathlon fifty pence at £8.25.
In a Royal Mint video interview with the Triathlon coin designer Sarah Harvey, asked why did you choose Triathlon for your design?, Sarah said: I just found it quite fascinating and I had it in my head when I was looking at the list of sporting activities and I had the three forms in my head and I just needed some kind of way of connecting them and I think that was perhaps the most challenging but kind of the most creative element of the design and the swimmer was the one I was most pleased with.
Triathlon is a recent addition to the Olympic events, appearing at the Sydney 2000 games for the first time. Triathlon is a 3 stage race starting with a 1.5km swim, straight onto bikes for a 40km road race followed by a 10km run, after all 3 the first to cross the finish line wins.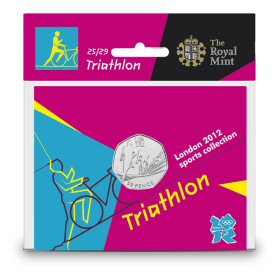 The Royal Mint London 2012 50p Sports Collection - Triathlon coin 25/29 LUK50TRI was priced at £2.99 when released, but since then the value has increased and it is now worth three times that amount.
After 51.5km of swimming, cycling and running - the women's triathlon at the London 2012 games ended with a photo finish! Nicola Spirig from Switzerland won gold with the same time a silver medalist Lisa Norden from Sweden. View the full London 2012 Triathlon results courtesy of olympic.org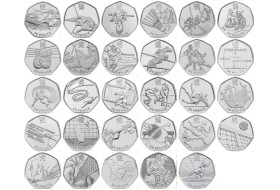 London 2012 50p Sports Collection
UK Decimal Coins
|
Coins for Sale
|
Coin Valuations
|
Coin Dealers
|
Great British Coin Hunt

© Coin Hunter Limited | Company number 10925477 England
Contact Us
|
Privacy Policy
Page Updated: 30 January 2019