find the coin you're looking for
Weightlifting 50p Coin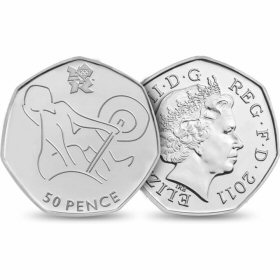 The Sports Collection Weightlifting 50p was designed by Rob Shakespeare.
2011 mintage of 1879500 entered circulation to represent Weightlifting being part of the London 2012 Olympics.
The Weightlifting 50p coin is worth 50p but as a collectors item we value a good condition circulation London 2012 50p Sports Collection - Weightlifting fifty pence at £1.55.
In a Royal Mint video interview with the Weightlifting coin designer Rob Shakespeare, asked why did you choose Weightlifting for your design?, Rob said: Weightlifting has always been something I've had an interest in and something that I have partaken in myself at gyms and it's always fascinated me the dynamic shapes that people take when they do specific manoeuvres and technique so I thought I would try and apply that to the coin if I could.
In Olympic weightlifting there are two types of lifts, snatch in which you lift the weight above your head with locked arms in one movement and clean and jerk where the weighted bar if lifted onto the front of the shoulders (clean) and then jerked to locked arms above the head.
Athletes have 3 attempts at each discipline, with the combined highest weight lifted winning gold.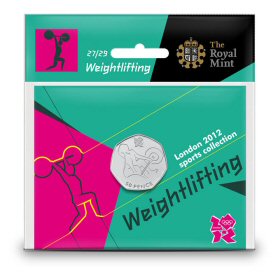 The Royal Mint London 2012 50p Sports Collection - Weightlifting coin 27/29 LUK50WGT was priced at £2.99 when released, but since then the value has increased and it is now worth three times that amount.
Weightlifting is not an event that Great Britain do well in, China and Iran did well at the London 2012 games, but Ukraine took gold in the 105kg heavyweight men's event with Oleksiy Torokhtiy lifting a total of 412kg. View the full London 2012 Weightlifting results courtesy of olympic.org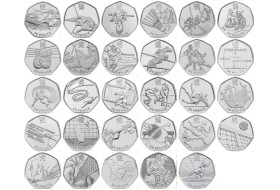 London 2012 50p Sports Collection
UK Decimal Coins
|
Coins for Sale
|
Coin Valuations
|
Coin Dealers
|
Great British Coin Hunt

© Coin Hunter Limited | Company number 10925477 England
Contact Us
|
Privacy Policy
Page Updated: 30 January 2019