find the coin you're looking for
Wheelchair Rugby 50p Coin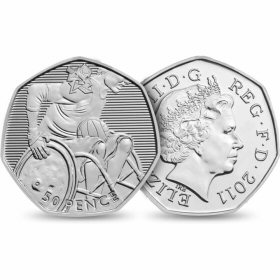 The Sports Collection Wheelchair Rugby 50p was designed by Natasha Ratcliffe.
2011 mintage of 1765500 entered circulation to represent Wheelchair Rugby being part of the London 2012 Olympics.
The Wheelchair Rugby 50p coin is worth 50p but as a collectors item we value a good condition circulation London 2012 50p Sports Collection - Wheelchair Rugby fifty pence at £1.99.
This coin is also referred to as the Paralympic basketball 50p.
In a Royal Mint video interview with the Wheelchair Rugby coin designer Natasha Ratcliffe, asked why did you choose Wheelchair Rugby for your design?, Natasha said: I was lucky enough to get two coins made in production, wheelchair rugby and also handball but I chose wheelchair rugby really because when I started looking through the sports I came across all the pictures of wheelchair rugby and it looked so full of energy, you've got wheelchairs crashing into one another and people falling out and there's all the dented wheel covers and people always have their hands strapped up its just quite organic and raw and I really like that, I thought it was great.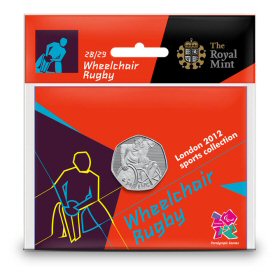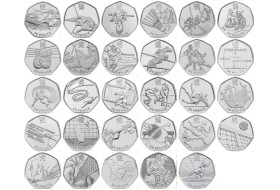 London 2012 50p Sports Collection
UK Decimal Coins
|
Coins for Sale
|
Coin Valuations
|
Coin Dealers
|
Great British Coin Hunt

© Coin Hunter Limited | Company number 10925477 England
Contact Us
|
Privacy Policy
Page Updated: 30 January 2019