find the coin you're looking for
Wrestling 50p Coin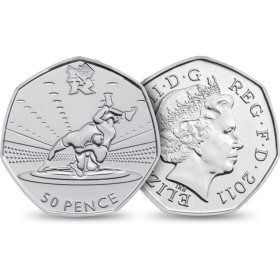 The Sports Collection Wrestling 50p was designed by Roderick Enriquez.
2011 mintage of 1129500 entered circulation to represent Wrestling being part of the London 2012 Olympics.
The Wrestling 50p coin is worth 50p but as a collectors item we value a good condition circulation London 2012 50p Sports Collection - Wrestling fifty pence at £6.25.
The Royal Mint video interview with the Wrestling coin designer Roderick Enriquez
In wresting, than aim is to pin the opponent's shoulders to the mat with points also scored for throws and holds throughout the bout.
Athletes compete in 2 three minute rounds. Wresting can be freestyle or Greco-Roman. Freestyle is whole body, Greco-Roman is upper body only.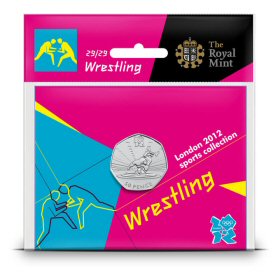 The Royal Mint London 2012 50p Sports Collection - Wrestling coin 29/29 LUK50WRE was priced at £2.99 when released, but since then the value has increased and it is now worth three times that amount.
With 72 medals handed out for freestyle or greco-roman wrestling at different weight categories, it was still not an event for Team GB athletes who did not manage to place in the top 4 (2 bronzes). View the full London 2012 Wrestling results courtesy of olympic.org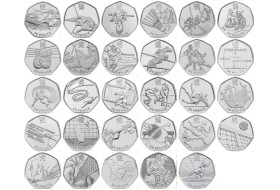 London 2012 50p Sports Collection
UK Decimal Coins
|
Coins for Sale
|
Coin Valuations
|
Coin Dealers
|
Great British Coin Hunt

© Coin Hunter Limited | Company number 10925477 England
Contact Us
|
Privacy Policy
Page Updated: 30 January 2019