Tooth Fairy 50p My Lost Tooth Celebration Set
Sold by The Royal Mint as a coin to be left by the Tooth Fairy, it is currently one of the rarest 50ps ever struck (as at 01/03/2022 - less than 1,000) - but could be a bit of a disappointment for children.
This pack is likely to be purchased by collectors who appreciate the small star privy mark which makes this coin different - children will see a 50p like the ones common in change - just shiny, as the star is too small to be easily seen and identified.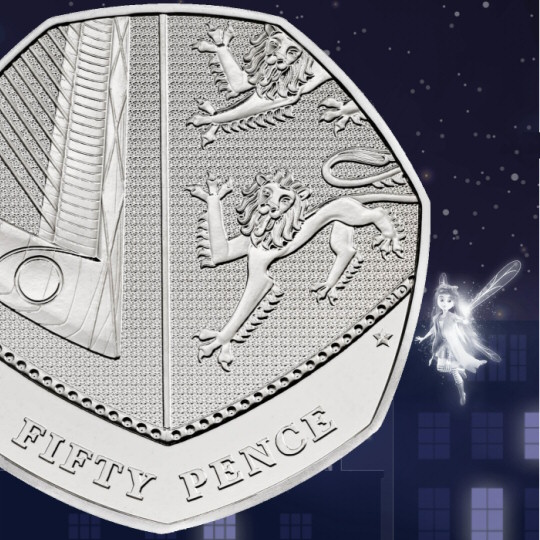 The coin is only slightly different to the common Shield design by Matthew Dent that can be found in your change.
There is a small star on the right hand side of the coin, just under the designers initials MD - this addition to an exsiting coin design is known as a privy mark to coin collectors.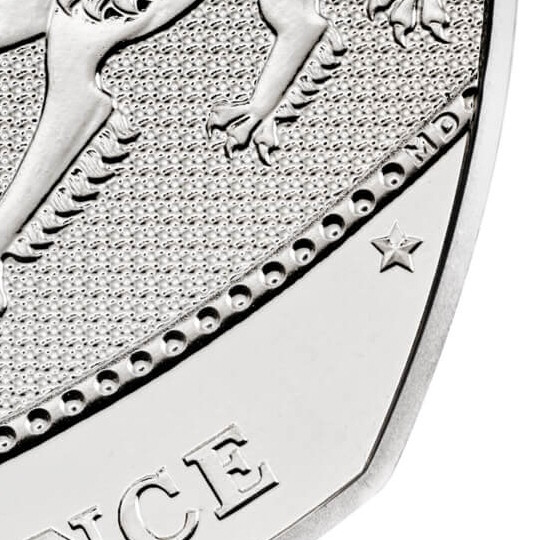 A number of collectors who have purchased this product have said they will ask the tooth fairy to swap the coin for a different one - so they can add the Matt Dent Shield 50p with star privy mark to their own coin collection!
It is difficult to imagine that any coin collector will allow their son or daughter to touch a Brilliant Uncirculated coin - most will carefully remove the coin from the pouch wearing cotton gloves and place it into a coin capsule to keep it in pristine condition.
Tooth Fairy 50p Coin
Which 50p coin would be the perfect match for this product? - is there a UK coin that in itself would be a magical find when a child opens the pouch found under their pillow?
To be fair, there is no obvious coin that could be used from the available UK 50p coins struck by The Royal Mint.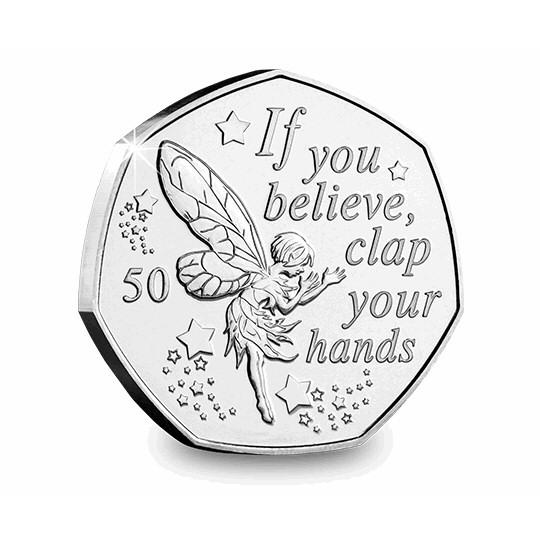 2019 Isle of Man Tinkerbell 50p (Peter Pan Set)
The most fitting coin we could find was struck by Tower Mint for the Isle of Man. 1 of the 6 coins from the 2019 Peter Pan set - the Tinkerbell 50p.
Coin Hunter stock a very limited number of the Tinkerbell Tooth Fairy 50p packs which are made up of packaging produced by The Royal Mint with the Tinkerbell "Tooth Fairy" 50p in the drawstring pouch, instead of the 2022 Shield 50p.
Tooth Fairy My Lost Tooth Celebration Set
At the moment this coin is available on backorder from The Royal Mint website which shows Awaiting Stock | Shipping early April.
2022 Tooth Fairy My Lost Tooth Celebration Set RRP: £15.00 Awaiting Stock
The last 130 coins sold out in just 2 hours on the evening of the 4th of February - after appearing on Facebook coin groups and the Coin Hunter Facebook Page which reached nearly 5 thousand people in just a few hours.
£25 - £40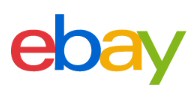 The new release 50p is now being offered for sale on eBay for £25 - £40.
Images of the Tooth Fairy My Lost Tooth Celebration Set packaging.