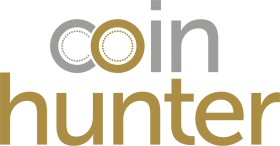 find the coin you're looking for
Coin Dealers Derby - buying and selling coins in Derby and the surrounding area
If you have a coin collection you would like to sell, we can arrange a free online assessment to be carried out by dealers in the Derby area.
Coin Hunter helps you get the best price for your collection by showing images to as many dealers in and around Derby as possible. We also offer a best price guarantee and there is no obligation to sell. To find out more, visit the sell your coins online collection valuation page.
If you are looking for a Derby coin dealer to buy from or to sell your collection - take a look at the list below to find out more about the valuation services offered by local coin experts based in Derby.
View the dealer summary cards on this page which includes contact details, or click each link to find out more. There is also dealer map for the Derby area, this shows locations of coin shops and coin dealers.
Featured Coin Dealers in the Derby area:
Derby Coin Dealers:
Collectors World
Ancient to modern, English and foreign c...
188, Wollaton Rd, Wollaton, Nottingham, Nottinghamshire, NG8 1HJ
0115 928 0347



Michael Beaumont
English milled 1662 to date, World coins...
Postal Address: P.O. Box 8, Carlton, Nottingham, NG4 4QZ
0115 987 8361
History in Coins
Hammered and milled Coins of England, Sc...
Postal Address: PO Box 7608, Bingham, Nottingham, Nottinghamshire, NG13 8WG
07944 374600



The Coin Connection
Specialist dealers of gold and silver co...
Postal Address: P.O Box 16867, Tamworth, Staffordshire, B77 9NJ
01827 280102


Hall's Hammered Coins
British hammered coins 600AD-1662AD
Postal Address: Klippon House, Meridian Business Park, Leicester, Leicestershire, LE19 1TP
07830 019584



Postal Address: 6 Holly Grove Lane, Burntwood, WS7 1LU, United Kingdom
07709 349014




David Craddock
Postal Address: PO Box 3785, Camp Hill, Birmingham, West Midlands, B11 2NF
0121 773 2259


BullionByPost
Gold and silver coins
Postal Address: Floor 16, Centre City Tower, 7 Hill Street, Birmingham, B5 4UA
0121 634 8060



Birmingham Coins
30 Shaftmoor Lane, Acocks Green, Birmingham, West Midlands, B27 7RS
0121 707 2808


Dyas Coins & Medals
Postal Address: Unit 3, 42 Stratford Road, Shirley, Solihull, West Midlands, B90 3LS
0121 733 2225
Paul Davis - Birmingham
Postal Address: PO Box 418, Birmingham, West Midlands, B17 0RZ
0121 427 7179

Peter Viola
57 Highland Road, Kenilworth, Warwickshire, CV8 2EU
07770897707

A. G. & S Gillis
Ancient coins and antiqities
Postal Address: 59 Roy Kilner Road, Wombwell, Barnsley, Yorkshire, S73 8DY
01226 750371
Warwick & Warwick Ltd
Auctioneers - stamps, coins and collecta...
Chalon House, Scar Bank, Millers Road, Warwick, Warwickshire, CV34 5DB
01926 499031



Neil Smith
Gold Sovereigns and other gold coins
Postal Address: P.O. Box 774, Lincoln, Linconshire, LN4 2WX
01522 522772


coinmac
Ancient, Greek and medieval coins
Postal Address: 15 Desborough Rd, Rothwell, Kettering, NN14 6JG
01536 711086
Colin Cooke Coins
UK gold and silver, hammered, copper and...
Postal Address: PO Box 602, Altrincham, Cheshire, WA14 5NQ
0161 927 9524





© Coin Hunter 2018