find the coin you're looking for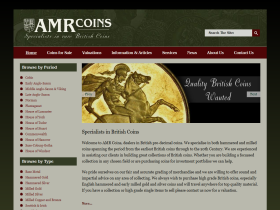 AMR Coins
English hammered coins from Anglo-Saxon to Charles II and milled coins from Charles II to the 20th century
AMR Coins based in Yorkshire run an online coin shop, selling direct from the website www.amrcoins.com. Milled and hammered coins for sale from AMR Coins such as the Penny, Half Crown, Shilling, Groat, Sixpence, Crown, Sovereign, Florin, and Half Penny are listed on Coin Hunter. Established in 2010 AMR Coins is a member of the British Numismatic Trade Association and has been trading for 8 years.
AMR Coins
Please mention Coin Hunter when getting in contact
Contact Name

Martin Roberts

Location

Yorkshire

Shop Address

N/A

Contact Address

PO Box 352, Leeds, West Yorkshire, LS19 9GG

Phone

07527 569308

Contact Form / Email
AMR Coins
info [at] amrcoins.com
Coins for sale listed online

Yes

Website
AMR Coins
www.amrcoins.com
Discount Codes

No

Buys Coins

Yes
If you live near Yorkshire and wish to sell your coin collection, AMR Coins are interested in buying coins. Martin Roberts can be contacted via the website, by email or by phone.
AMR Coins have about 297 milled and hammered coins for sale from 1016 to 1937.
A small selection of the silver, gold, copper, and bronze coins currently available from AMR Coins are shown below. To see more visit the AMR Coins website or use the Coin Hunter Coin Finder to search and filter available coins.
William I (1066-1687) Silver Penny PAXS type, Wareham
£1,200.00

Henry I (1100-1135) Silver Penny Pellets in Quatrefoil type, Winchester
£750.00

Victoria (1837-1901) Silver Halfcrown Young head, 1880
£295.00

James I (1603-1625) Silver Shilling Third coinage, sixth bust, good fine
£145.00

George V (1910-1936) Gold Sovereign Bare head, 1911, Canada
£400.00

Philip and Mary (1554-1558) Silver Groat Crowned bust left
£400.00

Victoria (1837-1901) Silver Sixpence Old head, 1901
£28.00

Charles II (1660-1685) Silver Crown Third draped bust, 1676, virtually extremely fine
£5,250.00

Victoria (1837-1901) Gold Sovereign Young head, 1857
£650.00

UK Decimal Coins
|
Coins for Sale
|
Coin Valuations
|
Coin Dealers
|
Great British Coin Hunt

© Coin Hunter Limited | Company number 10925477 England
Contact Us
|
Privacy Policy