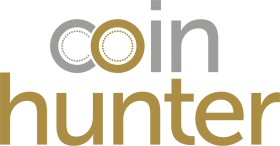 find the coin you're looking for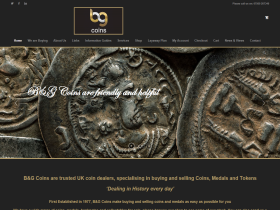 B & G Coins
Rare UK and foreign coins and medals
B & G Coins based in Lincolnshire run an online coin shop, selling direct from the website www.bandgcoins.co.uk. Milled and hammered coins for sale from B & G Coins such as the Half Penny, Shilling, Half Crown, Florin, Sixpence, Penny, Sovereign, Crown, Groat, Farthing, Double Florin, Half Sovereign, and £2 are listed on Coin Hunter. Established in 1977 B & G Coins has been trading for 41 years.
An eBay shop is also available, items are sold from https://www.ebay.co.uk/sch/bandgcoins1977/m.html. View items listed on the B & G Coins eBay Shop.
B & G Coins
Please mention Coin Hunter when getting in contact
Location

Lincolnshire

Shop Address

N/A

Contact Address

P.O Box 1219, Spalding, PE11 9FY

Phone

07950 287349

Contact Form / Email
B & G Coins
info [at] bandgcoins.co.uk
Coins for sale listed online

Yes

Website
B & G Coins
www.bandgcoins.co.uk
eBay Shop
Discount Codes

No

Buys Coins

Yes
If you live near Lincolnshire and wish to sell your coin collection, B & G Coins are interested in buying coins and can be contacted via the website, by email or by phone.
B & G Coins have built a solid and trusted reputation as evidenced by ratings and reviews on TrustPilot and continue to provide free and no obligation valuations.
B & G Coins have about 549 milled and hammered coins for sale from 1016 to 2015.
A small selection of the silver, bronze, gold, and copper coins currently available from B & G Coins are shown below. To see more visit the B & G Coins website or use the Coin Hunter Coin Finder to search and filter available coins.
EDWARD THE CONFESSOR SILVER PENNY HAMMER CROSS TYPE 1059 – 1062 WINCHESTER MINT
£595.00

Davidson's Publishers Sise Lane London Halfpenny 1795
£33.00

Norwich Norfolk 1793 Halfpenny
£18.00

Gold Sovereign 1922 Perth Mint George V
£245.00

Edward VII Shilling 1906
£3.00

1925 Halfcrown Key Date Gap Filler
£18.00

George V Florin Key Date 1924
£8.00

QUEEN ANNE SILVER SIXPENCE 1705 PLUMES IN ANGLES, EARLY SHIELDS, S.3592
£349.00

George IV Ireland Penny
£5.00