find the coin you're looking for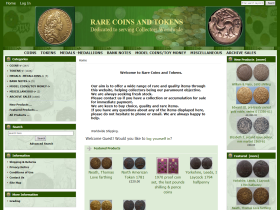 Rare Coins and Tokens
Rare coins, tokens, medals and banknotes
Rare Coins and Tokens run an online coin shop, selling direct from the website rarecoinsandtokens.co.uk. A wide range of well over 1,500 budget to extremely rare coins and tokens are offered, ranging from ancient through to the present day, specializing in 17th century tokens. New material is added on a regular basis.
Rare Coins and Tokens
Please mention Coin Hunter when getting in contact
Contact Name

Glen

Location

Herefordshire

Shop Address

N/A

Phone

01531 670214

Contact Form / Email
Rare Coins and Tokens
glen [at] rarecoinsandtokens.co.uk
Coins for sale listed online

Yes

Website
Rare Coins and Tokens
rarecoinsandtokens.co.uk
Discount Codes

No

Buys Coins

Yes
Rare Coins and Tokens are interested in buying coins. Glen can be contacted via the website, by email or by phone.
A small selection of the silver, bronze, and copper coins currently available from Rare Coins and Tokens are shown below. To see more visit the Rare Coins and Tokens website or use the Coin Hunter Coin Finder to search and filter available coins.
Abchurch Lane, John Milett 1664 farthing
Obv: John Milett 1664 , in three lines, in script. Rev: (mullet)IN.ABCHVRCH.LANE(rosette) , around cable inner circle, (rosette)M(rosette) over...
£48.00

William III, 1697 Exeter sixpence
Obv: GVLIELMVS. III.DEI.GRA. , third bust of William, facing right, E below. Rev: 97.MAG BR.FRA ET.HIB REX.16 , four cruciform shields around the...
£57.00

1774 counterfeit halfpenny
Obv: GEORGIVS. III.REX. , laureate bust of George III, facing right. Rev: BRITAN NIA. , Britannia seated with shield, facing left, holding spray and...
£44.00

Edward VII 1902 sixpence
Edward VII 1902 sixpence: Obv: EDWARDVS VII DEI GRA: BRITT: OMN: REX FID: DEF: IND: IMP: , Bare head of Edward VII facing right, tiny DES below...
£48.00

Queen Victoria, 1849 Halfcrown
Obverse: VICTORIA DEI GRATIA , young head left, large date 1849 below. Reverse: BRITANNIARUM REGINA FID: DEF: , around crowned shield within...
£60.00

Maundy penny 1786
George III, 1786 maundy penny: Obv: GEORGIVS.III.DEI.GRATIA , laureate and draped bust right. Rev: 86.MAG.BRI FRA.ET.HIB.REX.17 , around large...
£50.00

Edward II, London mint farthing
Obv: EDWARDVS REX A , crowned facing bust, pellet eyes. Rev: CIVI TAS LON DON , long cross with three pellets in each quarter. Weight: .28 grams....
£38.00

James I, shilling second coinage
James I shilling, second coinage, 1604 - 07, mm rose: Obv: (mm rose)IACOBVS.D:G:MAG:BRIT.FRA:ET.HIB:REX. Third bust facing right. Rev: (mm...
£55.00

Queen Victoria, 1858 halfpenny
Obverse: VICTORIA DEI GRATIA 1858 , young head left. Reverse: BRITANNIAR: REG: FID: DEF: , Britannia seated right. Toned Uncirculated, minor marks...
£85.00

UK Decimal Coins
|
Coins for Sale
|
Coin Valuations
|
Coin Dealers
|
Great British Coin Hunt

© Coin Hunter Limited | Company number 10925477 England
Contact Us
|
Privacy Policy